10 days in India and Bhutan / 2019
Many asked me which country is the best. "India" my answer. However it is very tough to travel in India on wheelchair, I recognize again. In my early 30's India trip, go to railway station, book a sleeper class lower bed, get on off train with someone's help, over night train 10+ times, looking for a hotel near station by walk, poop on street in emergency case... What a fearless crazy journey I did !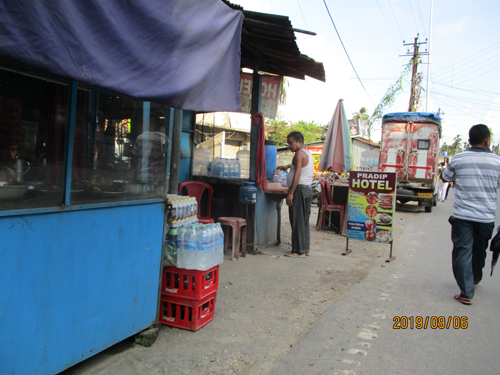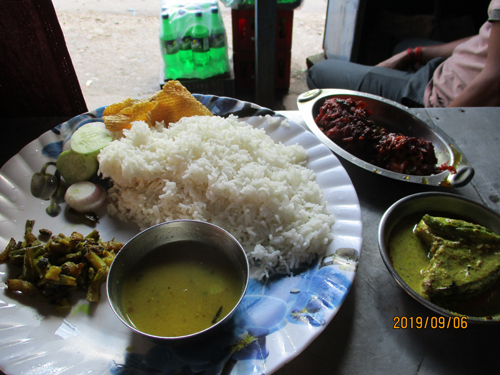 Today, many cheap domestic flights in India. Easy to book on net. Airport taxi driver help to find a hotel. Now I am mid 40's. Some change style of traveling, but eating curry on street is always same.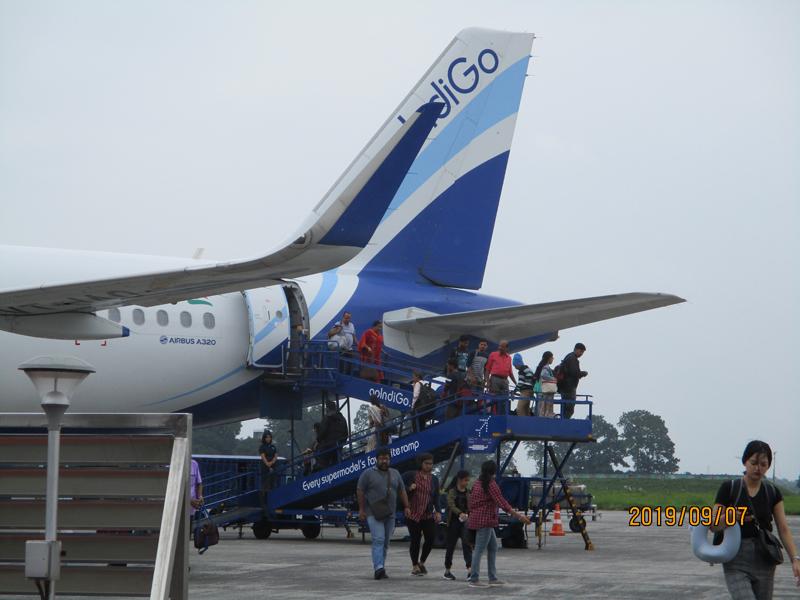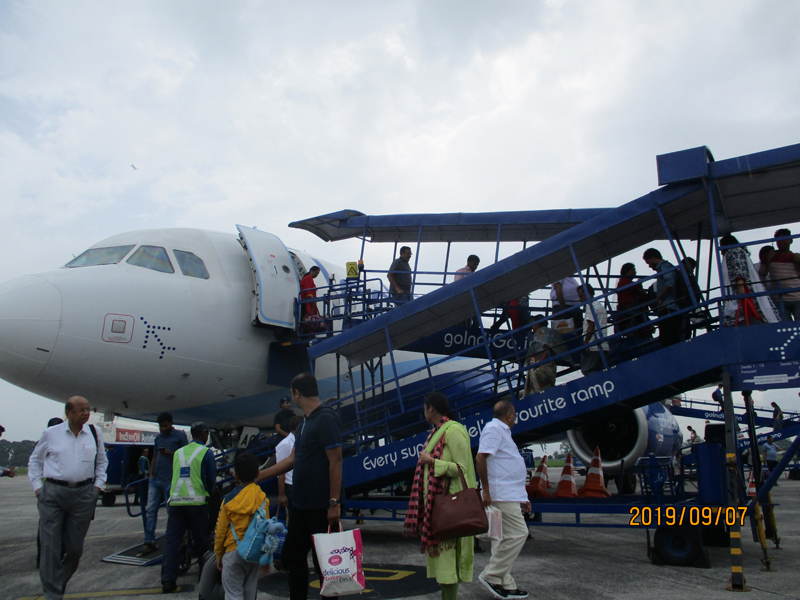 "Indi Go" wheelchair friendly Low Cost Carrer beased in India .I know their boading ramp system 10+ years ago (actually starts 13 years ago). Finally I used it. ! Easy solution. Universal Design. The boarding ramp is now getting popular in the world. But few in Japan. Why ? We should copy good example.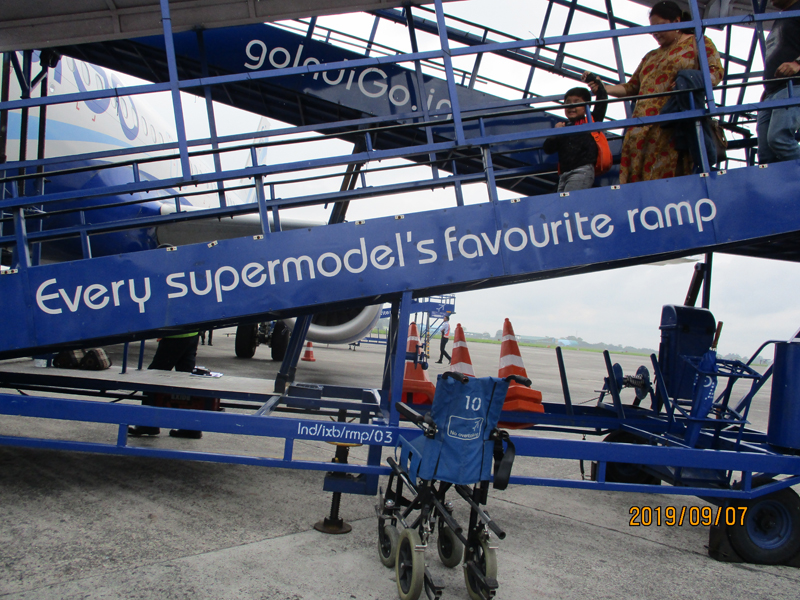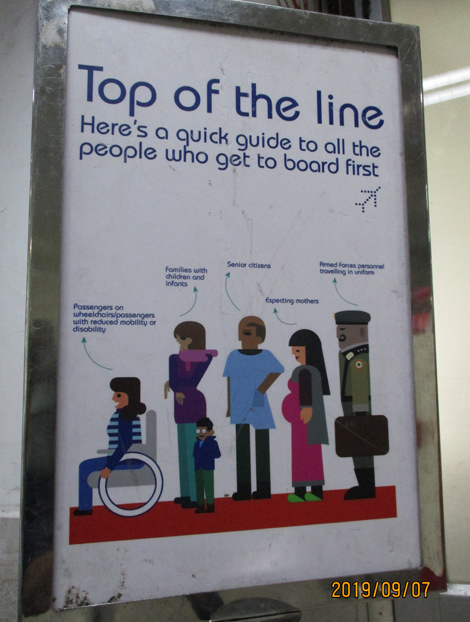 Bad thing. Hard work to find a hotel in Ahmedabad. Visited 10+ hotels, half of them said " no room " because of wheelchair alone. At last I go to 4 star hotel "Lemon Tree ".Good thing. "Lemon Tree " has a wheelchair accessible room. May be my 1st time in India.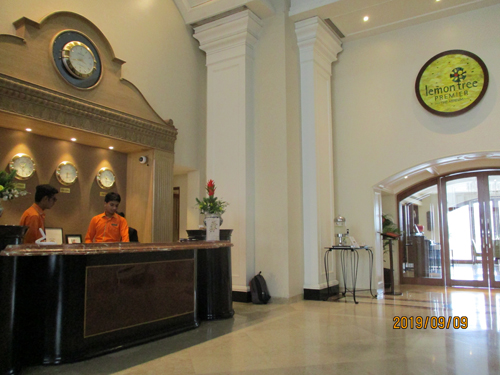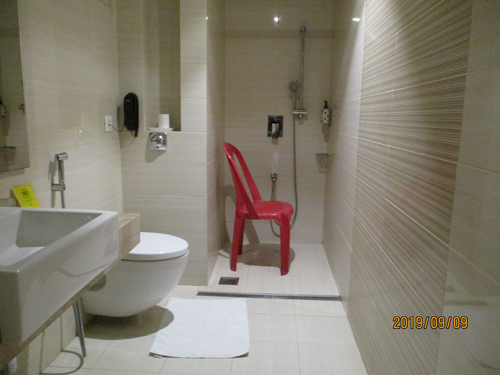 A deaf staff works at reception and helped me to check in. They hire 10-15 deaf people this hotel. Group policy. 43 group hotels in India 2019. Biggest mid class hotel chain., they have a plan to open in Nepal and Dubai. ...Good company. Nice name.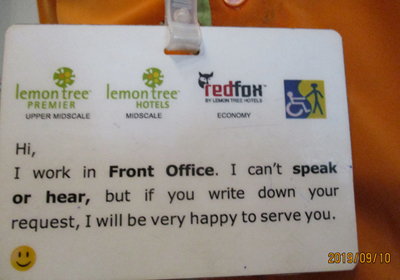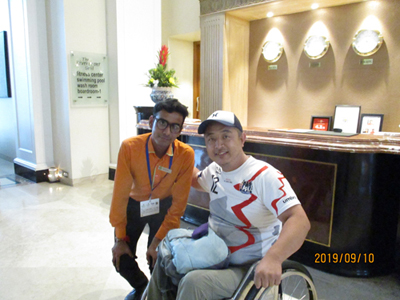 Bhutan. my 173rd visited country. No trash, clean, quiet, no street shops, good country, but no wheelchair accessibility, nothing...
Officially tourists must use Bhutan travel agent. It costs 1000 US$ more at least. We have to pay 250 US$ per day + Visa fee + air tickets. I paid 30 US$ for a half day taxi and enjoyed the border town as an Indian tourist. Bhutan border city is opened for Indians.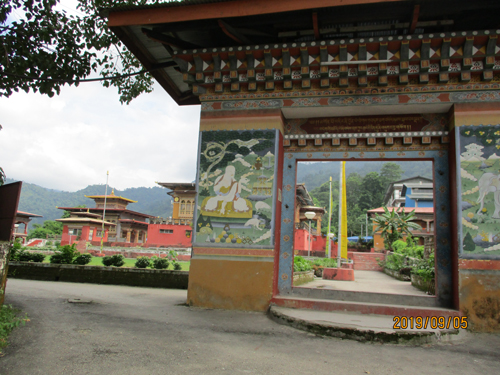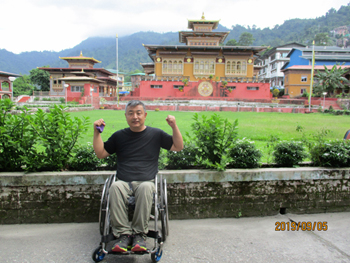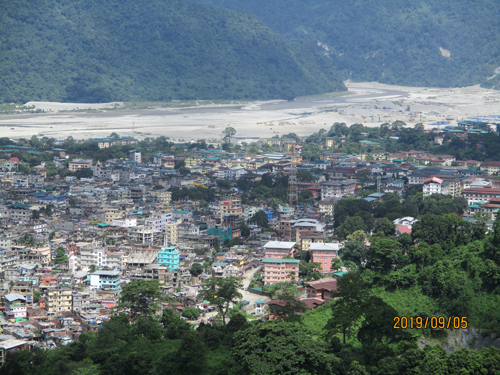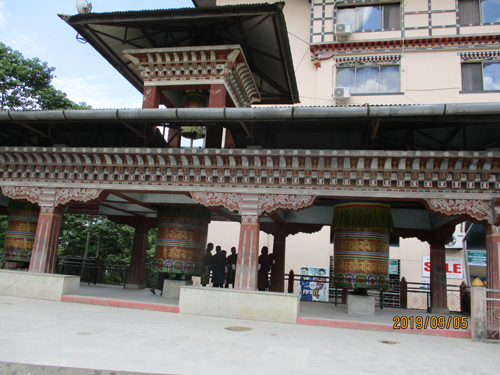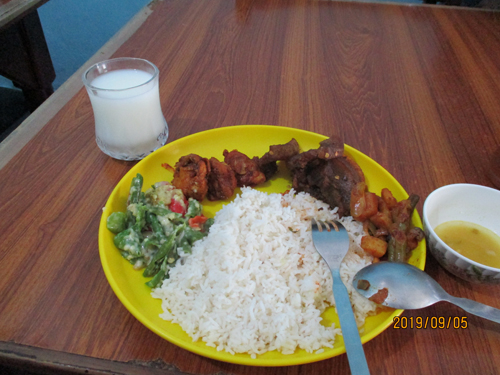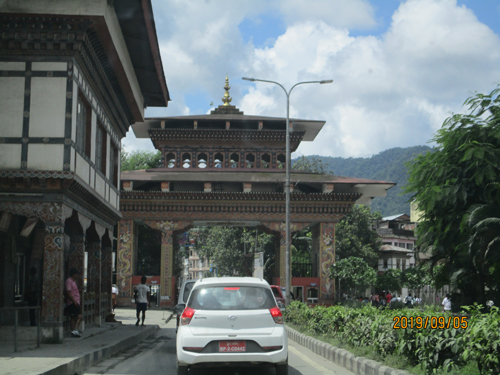 ---
1 week conference & alone / 2012
Delhi airport new terminal 3 is universal design. I love toilet design. Unique male and female photo.
4 days international conference " Mobility and Transport for Elderly and Disabled Persons ". Many speakers and attendant. Great study and exchange knowledge about accessibility.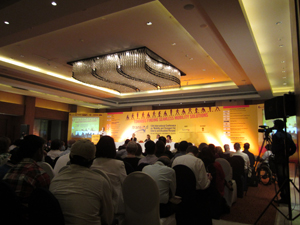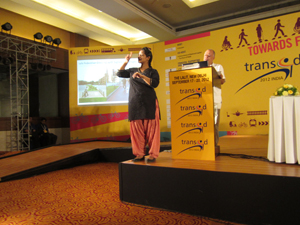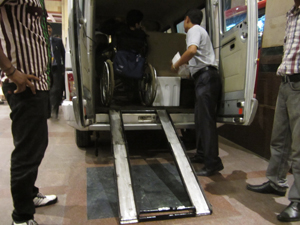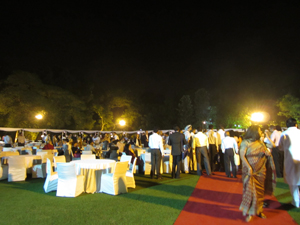 Study tour to Qutub Minar which was the first try to remake accessible in Indian UNESCO world treasure. There are some ramps.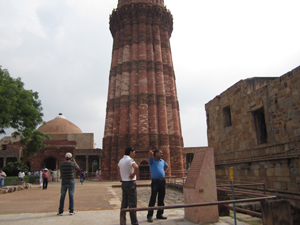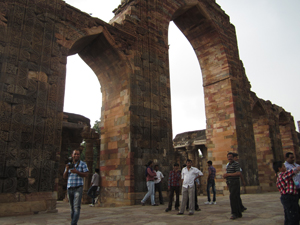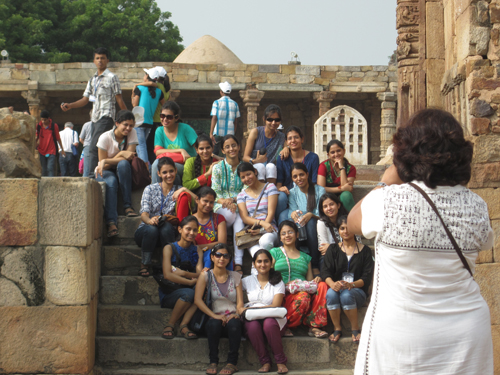 Delhi metro is full wheelchair accessible. All the stations have lifts or ramps. 1-2 cm gap between platform and train. Metro is perfect, but many barrier outside stations.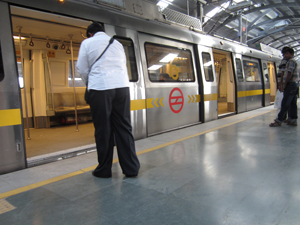 After the conference, I moved to Amritsar by night train. Indian railway travel is so exciting and fan. Communication and talk with local Indians were also fan.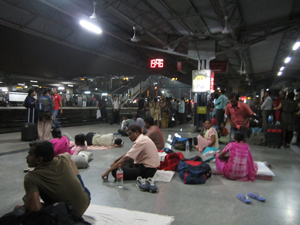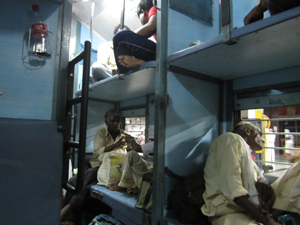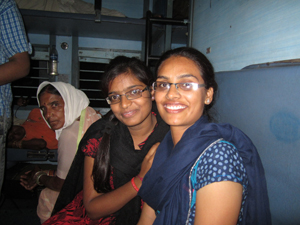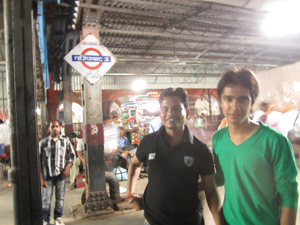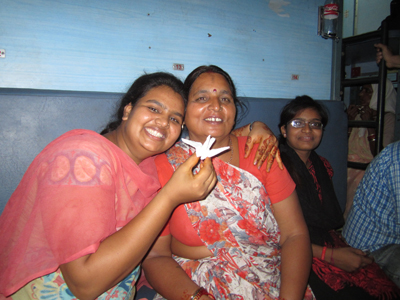 These are local trains. Many passengers tried to get off the train before stopping the platform. One coach for disabled, but many get on the coach.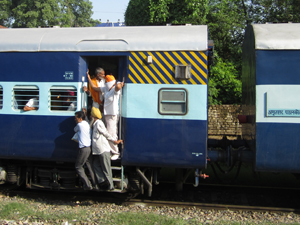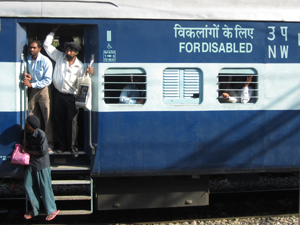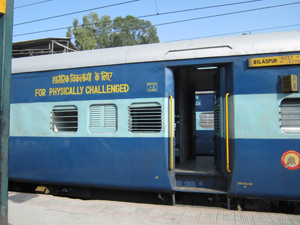 Finally I arrived at Amristar station. Breakfast at station was so nice. Local coke was same taste as Coca Cola.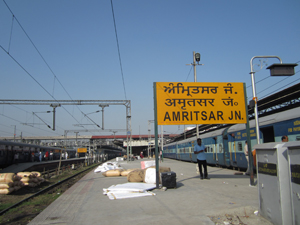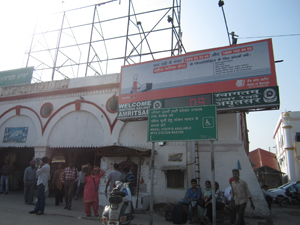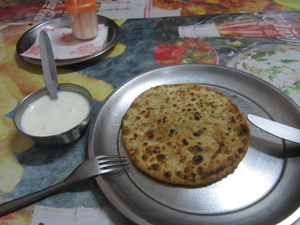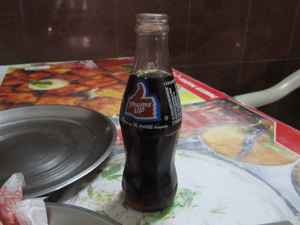 Golden temple. Sikhism holy place. East gate of Golden temple is wheelchair accessible. Other gates are not. Wheelchair is not allowed to enter inside holy place.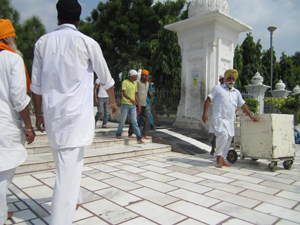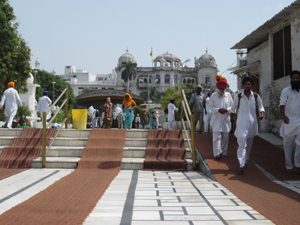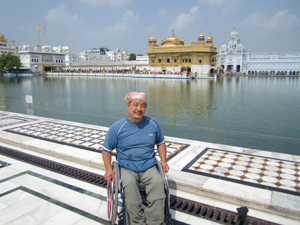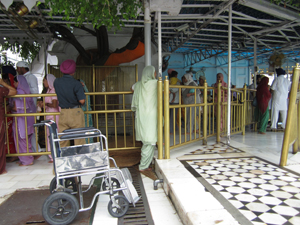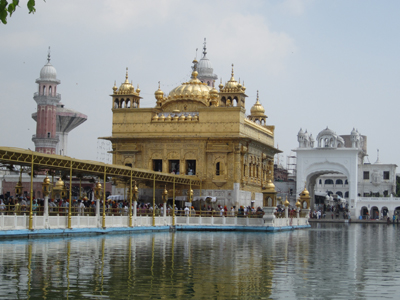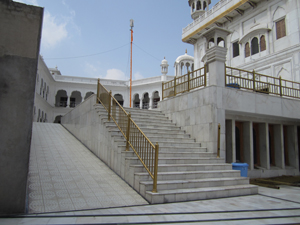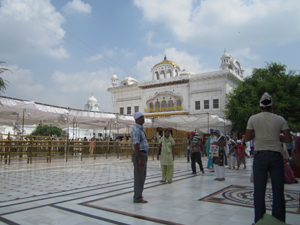 Free food and water. About 1000 people eat together. It is free to eat. Many volunteer worked. Every day 10 thousands of people come to eat. I cannot imagine how they keep to give free foods. Taste so nice !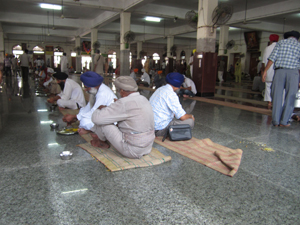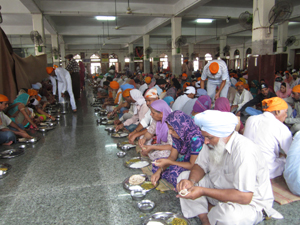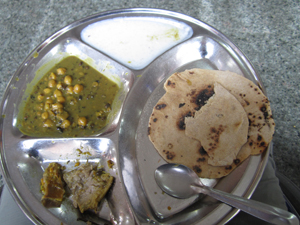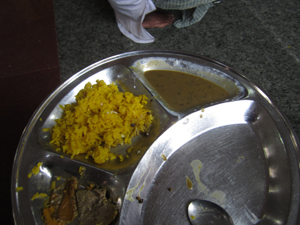 Amritsar is Panjab area. Tandoori chicken is world famous food here. I ate it at hotel restaurant. Spicy and mild.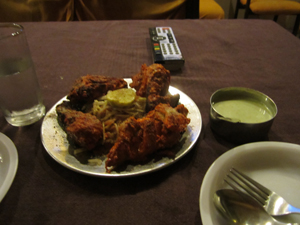 Breakfast on street. Batter bread with some vegetables. I love Indian foods !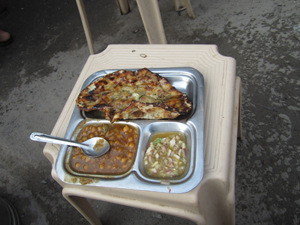 ---
2 weeks alone / 2008
South India trip from Chennai to Kochi. Mahabalipuram located 30km south of Chennai, is quite nice tourist city. Dance festival in January and Februry.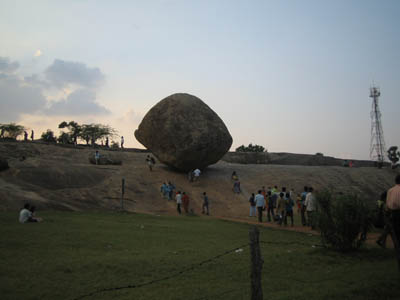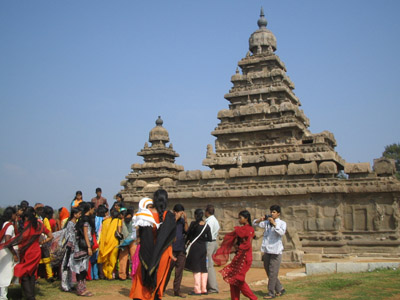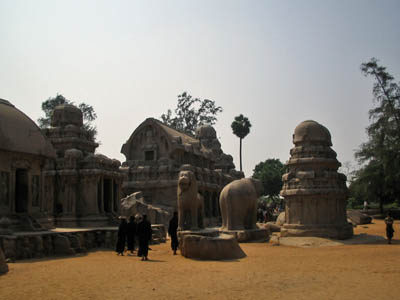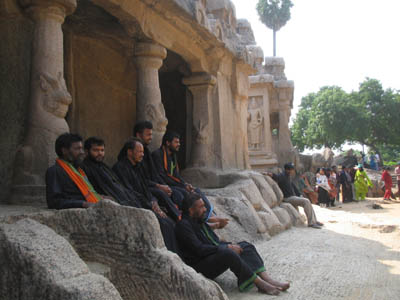 Dance festival in January and Feburury. We can see many type of Indian dance.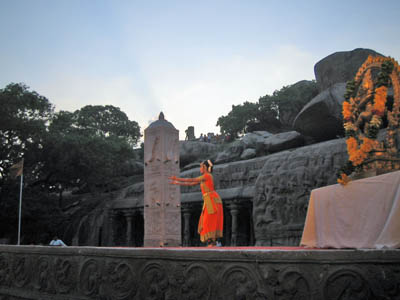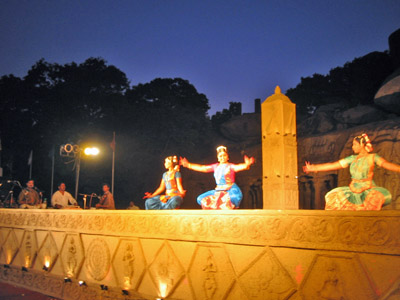 We eat meals only by hand in South India. Banana leaves are used as a plate. Rice is the most popular food.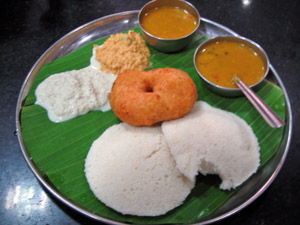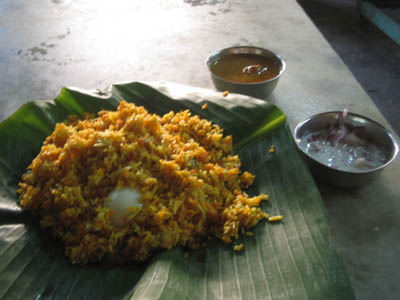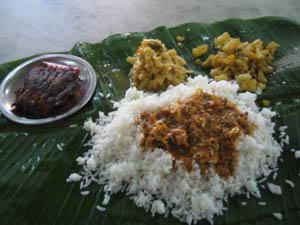 Indian railway is very kind for disabled passengers. Every station has some ramp. Disabled coach is also available, but so busy. You should keep a sleeper class on long distance.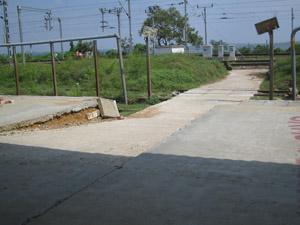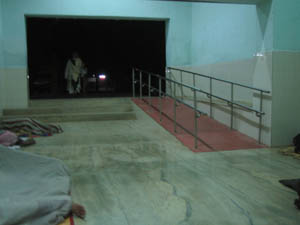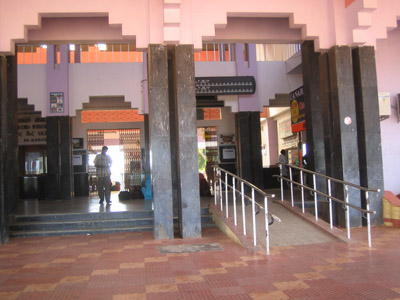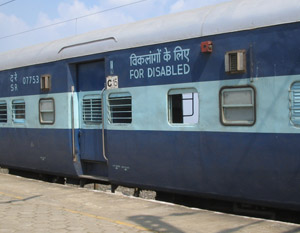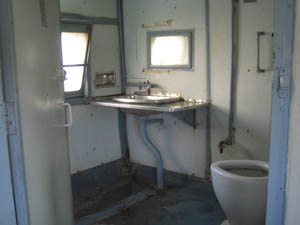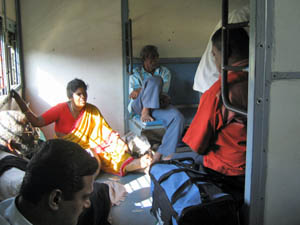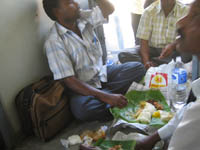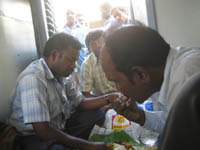 Rameswaram is a palce of Tamir's pilgrimage. They wash their body in holly sea around the sun rise.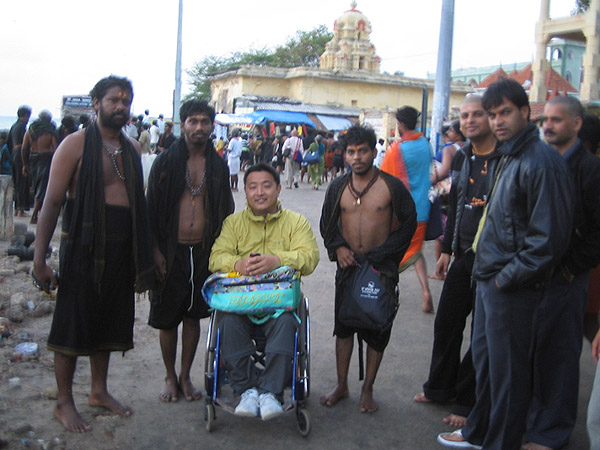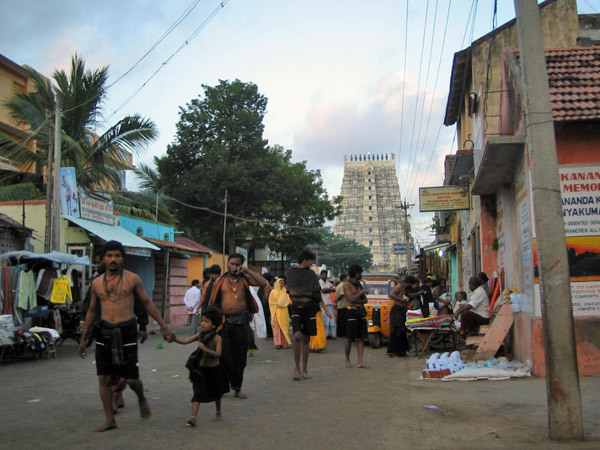 Left : new type Indian wheelchair. very unique seat. Right : normal Indian wheelchair. like a cycle.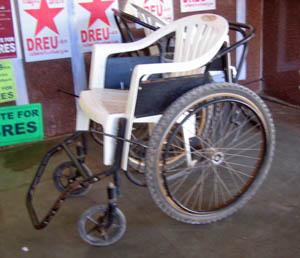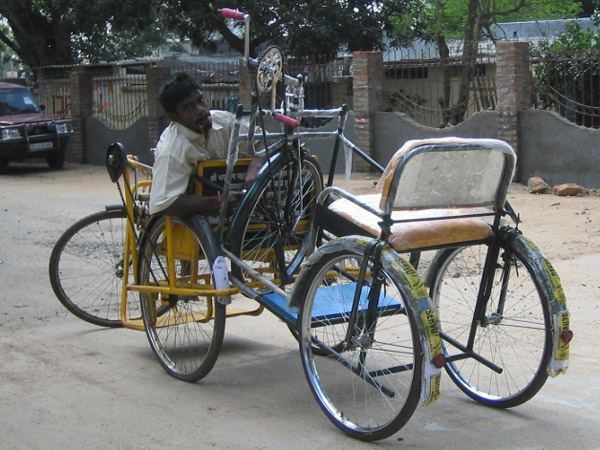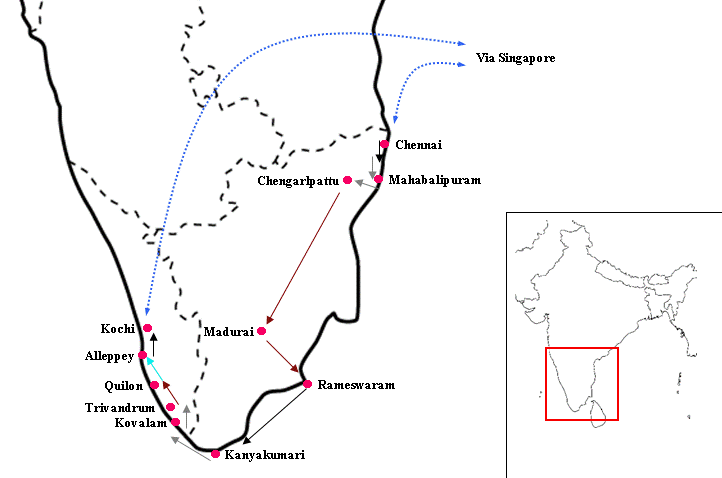 → AIR   → TRAIN   → SHIP → BUS   → HIRED TAXI or RIKISHAW
---
3 weeks with my wife & alone / 2006
from Nepal to Varanasi, 2 days bus trip. It was so long time with many trouble.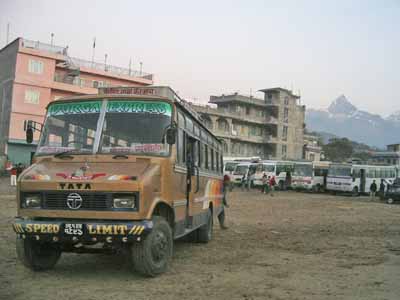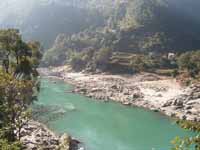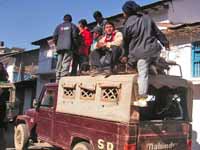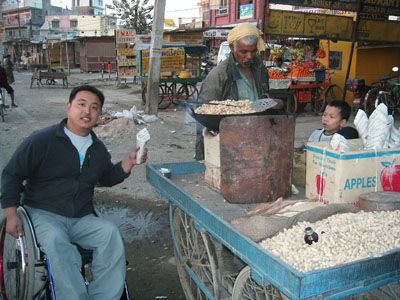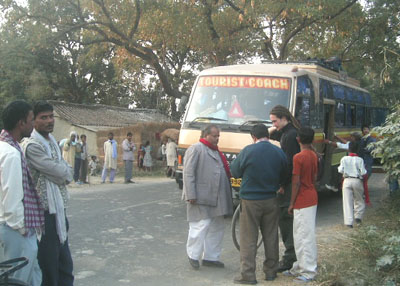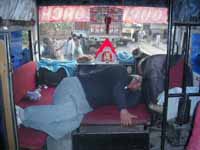 Varanasi is smell and dirty city. There are a lot of cow shit on the road. Many stairs beside Ganges River.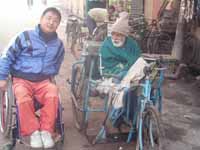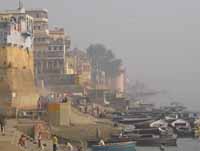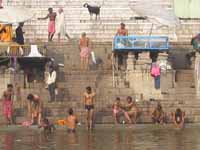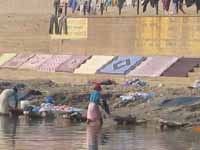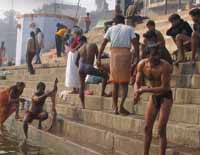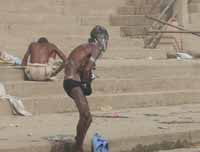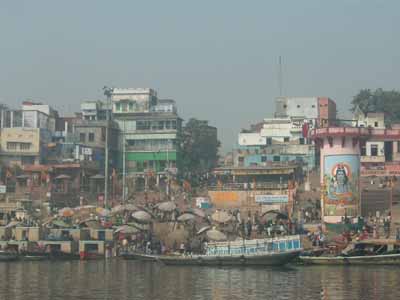 Indian railway system is pretty good. 2nd class sleeper is so comfortable to stay. Enough space to lie down.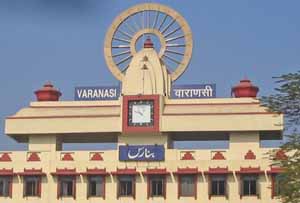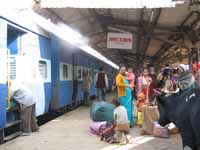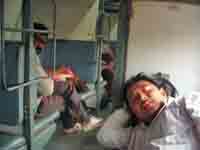 Indian railway station are accessible. Because many ramp for baggage.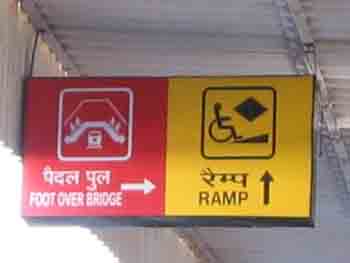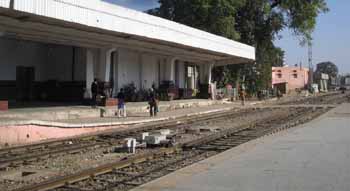 Kajurago is famous for erotic sculpture.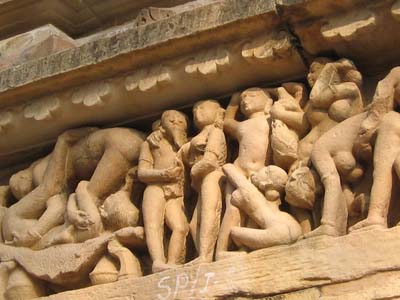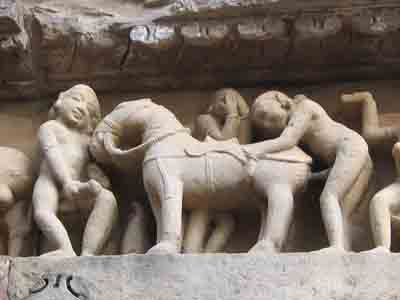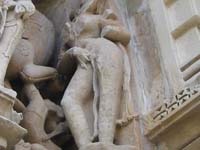 Orcha is good place to visit. Not so much tourist. The castle is good condition.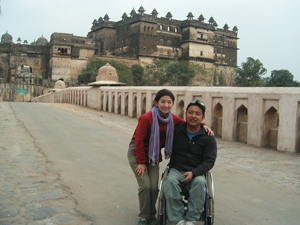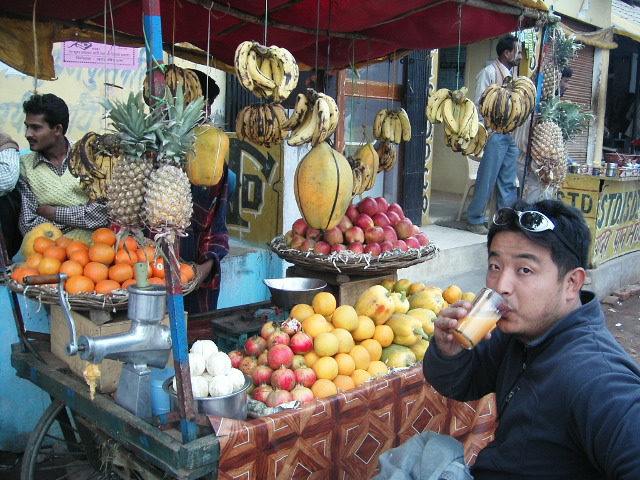 In Agra, a wheelchair guy guide the way to Agra Fort and Taji Mahal. Indian wheelchair is like bicycle. We can see many wheelchair on street. Everybody are mixed in India.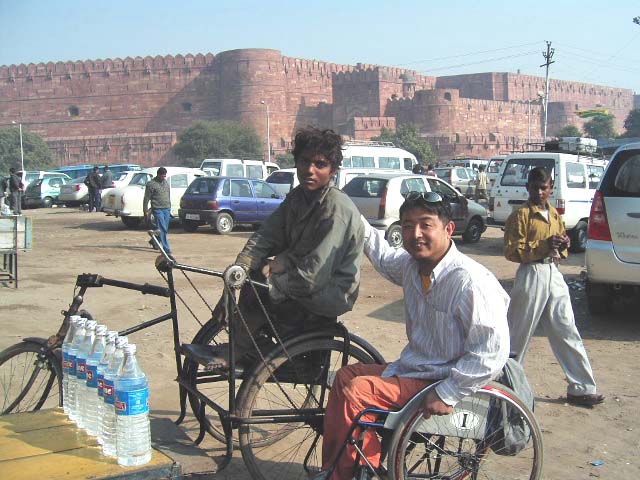 Aganta, a carriage took me to caves. It is not so cheep and kind. Indian are very noisy to get money from foreign tourist.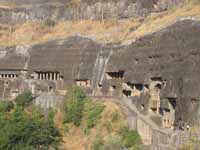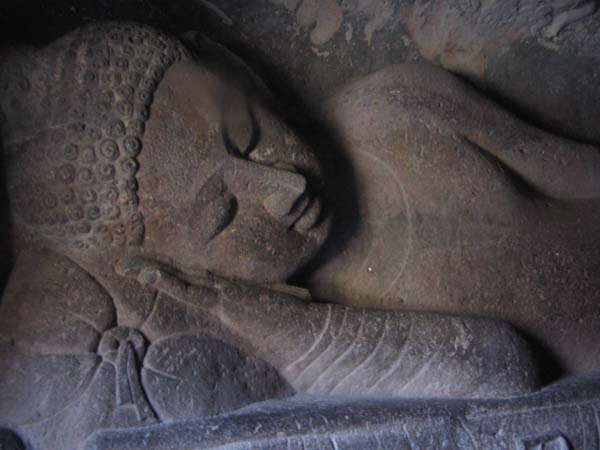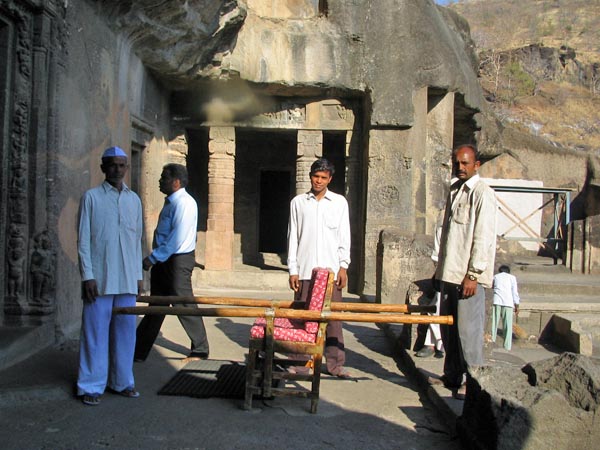 Elora is much better than Aganta. Lamp in front of temple. Good accessibility.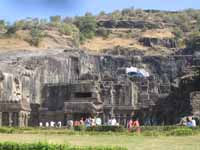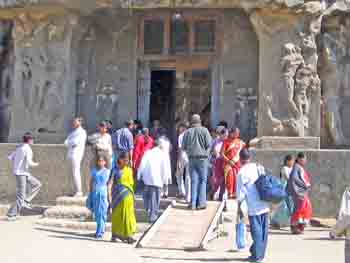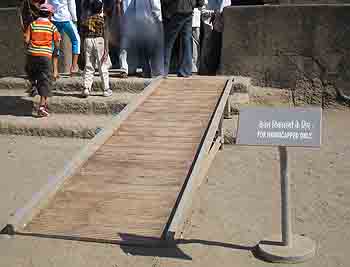 For tourist it is easy to order "Thali" lunch menu at a restaurant. It costs less than 1 US$, but it tastes so good. There are many vegetarian in India. They get protein from beans and cheese instead of meat and fish.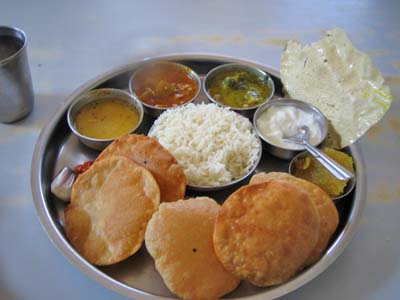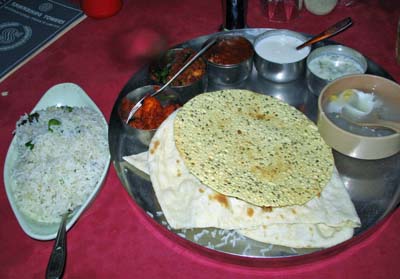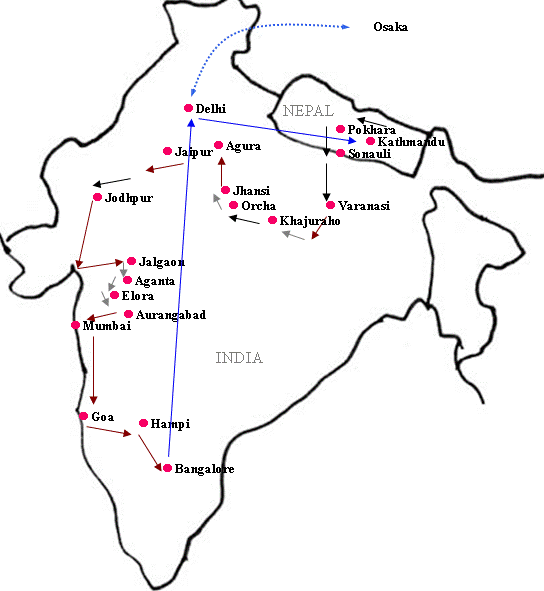 → AIR   → TRAIN   → BUS   → HIRED TAXI