8 days alone / 2012
Tehran railway station at midnight. A kind worker helped to get a train ticket to Mashhad. No air ticket and train ticket because of last summer holidays. 200 people on waiting list this night. Express train leave Tehran at 06:30. I sleep on the bench in this big station for 3 hours.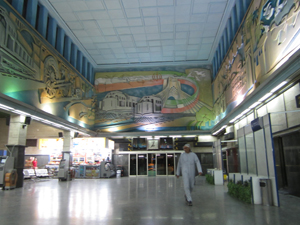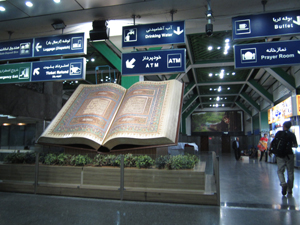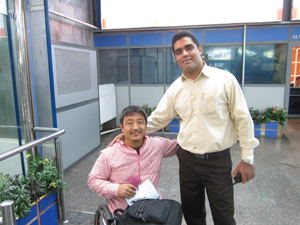 There are lifts to platform in Tehran railway station. 3 steps between train and platform. Kind men helped me. No special seat for wheelchair users. I moved the seat and fold my wheelchair. 8 hours, 850km to Mashhad. Free breakfast and lunch. The ticket costs only 330,000 real = 14 US$. Airplane ticket is also cheep 790,000 real = 35 US$, but always full booking.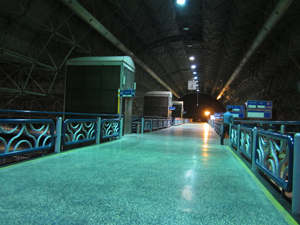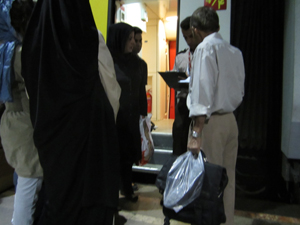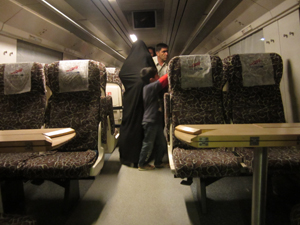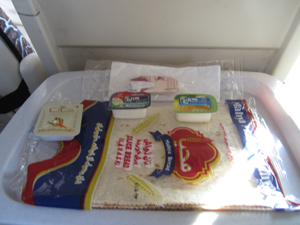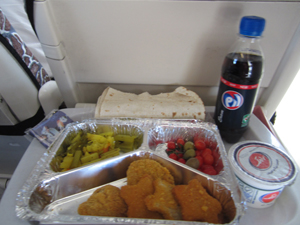 Mashhad railway station. They have lifts but out of order. I got out of the station from the edge of platform.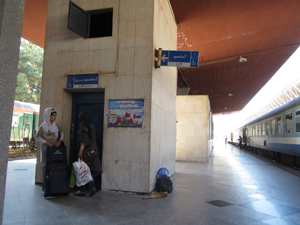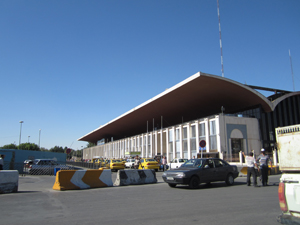 Holy city Mashhad is located near the borders of Afghanistan and Turkmenistan. Ten thousands of pilgrims come to pray. There are many shops around the holy place " Imam Reza shrine "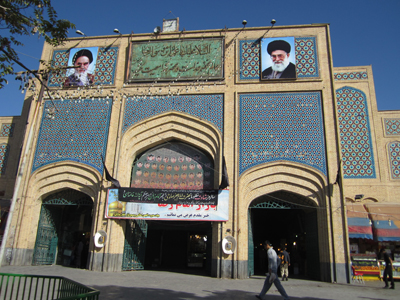 " Imam Reza shrine " is wheelchair friendly. Non step at entrance and inside. Only few steps at the center of shrine. Hundreds of rental wheelchair and special attendant service for elderly and disabled person. Because the area is huge. Long distance walk is hard for elderly. Many family used a free rental wheelchair for their parent or grand parent. I saw 200 more wheelchair pilgrims inside. Unforgettable experience to pray with thousands of people.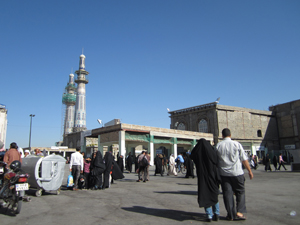 My Iran image was dry whether, but many vegetables and fruits. Food was nice, but not so many restaurants in town, only fast food or cafe. Eating dinner at hotel is better choice.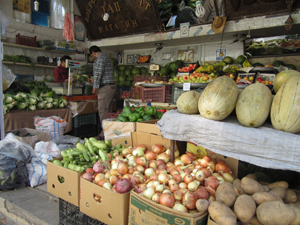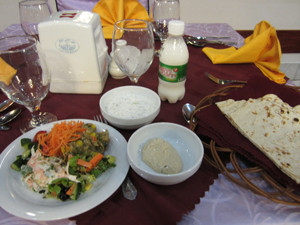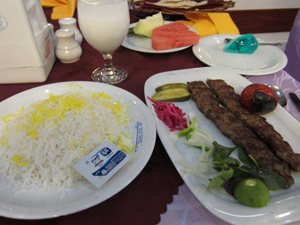 Bread with Soup. They eat mix. Iranian bread tastes good !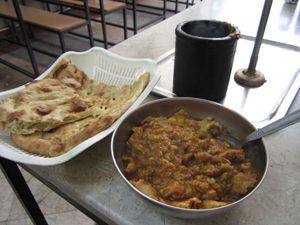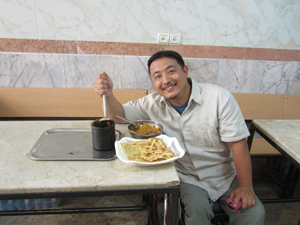 Chicken is popular meat. Not so many mutton and beef. Of course no pork.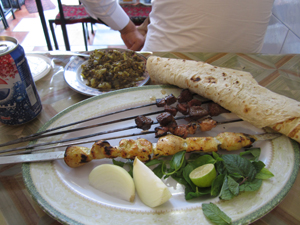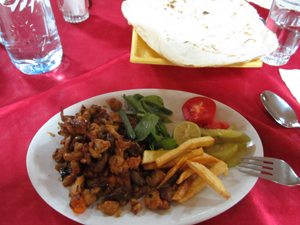 Metro (Light Rail Transit) runs in Mashhad. Full wheelchair accessible. All the station have lifts or ramp.
No gap between platform and train. Excellent transportation !!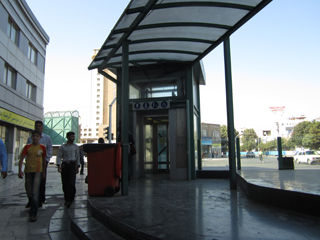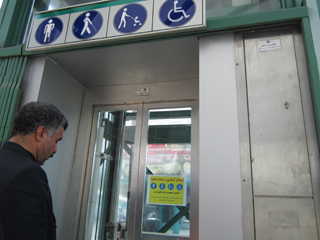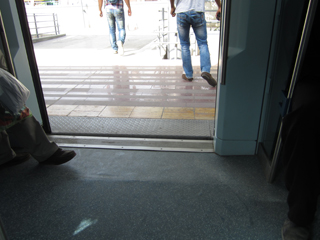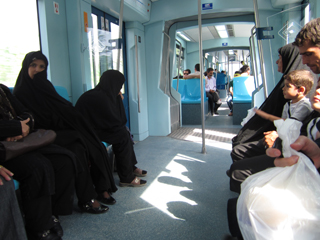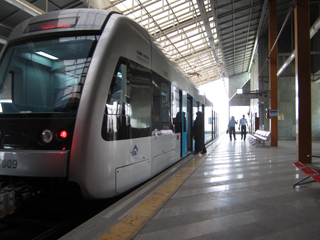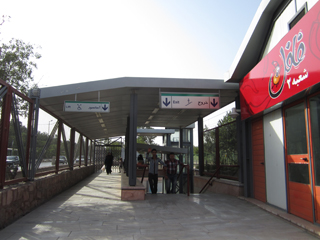 Iranian ramps are strange. Many notch on ramp for prevent slipping.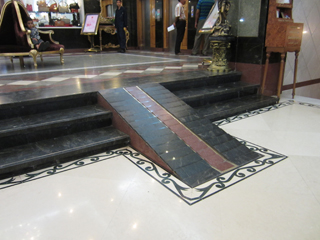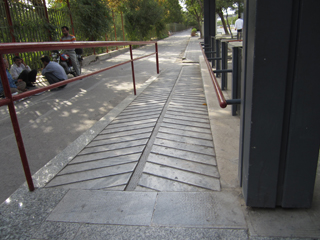 Mashhad airport wheelchair toilet. If wheelchair user comes, door is not closed. We do not need Arabic style toilet. We need more space. Toilet is big problem for wheelchair users in Iran.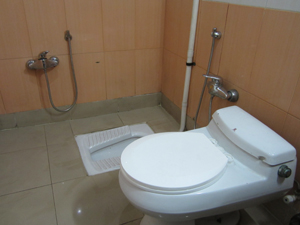 Esfahan is the most popular tourist city. Beautiful roads. Ramp to river side, but stairs at old stone bridge.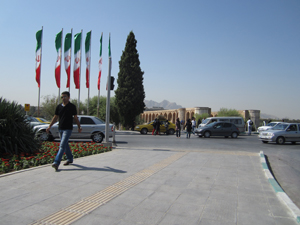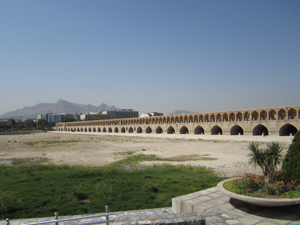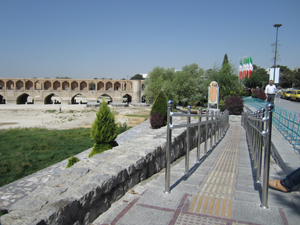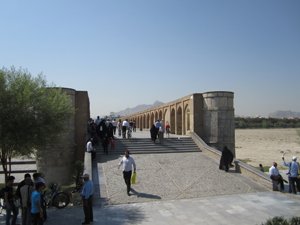 Lunch at Kentucky House. This is not Kentucky Flied Chicken. The taste was very similar, I think.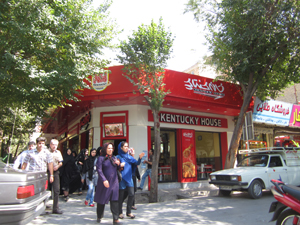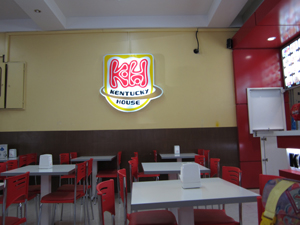 Emam square. Great Islamic architecture.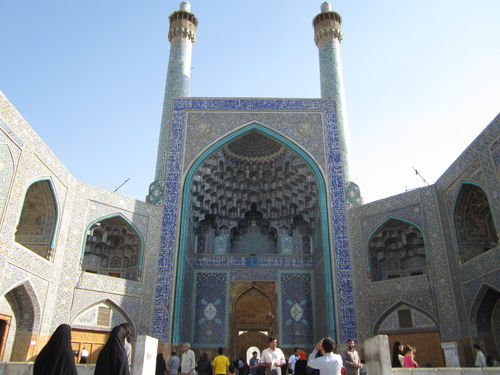 Many barrier for wheelchair around Emam square. Stairs to museum and bollards at entrance of shopping arcade. It was difficult to find a wheelchair route.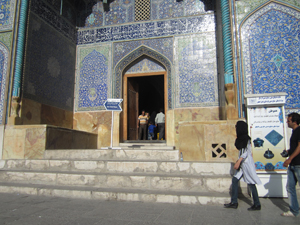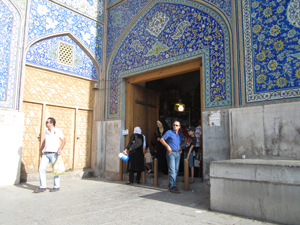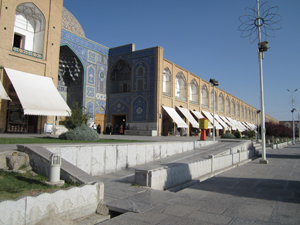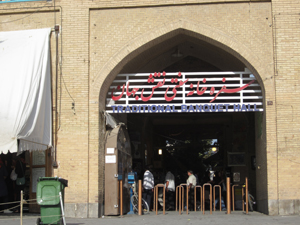 Bus to Shiraz from Esfahan. People do not speak English. Signs and tickets are only Persian language. Taxi price from city center to south bus terminal was 5 US$. The bus ticket (400km, 6.5hours) was 6 US$. I could sit down front seat.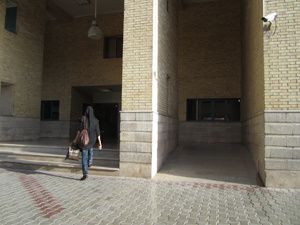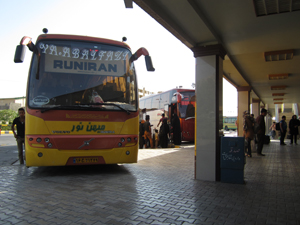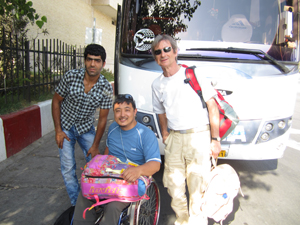 Persepolis was built BC550. Great ruins. Non step to entrance, but big stairs to ruins. I asked people's help to carry me up. Once we reach the top, the ruins are quite flat. Yes, it is possible to go around on wheelchair.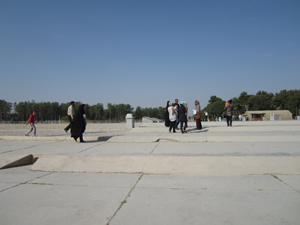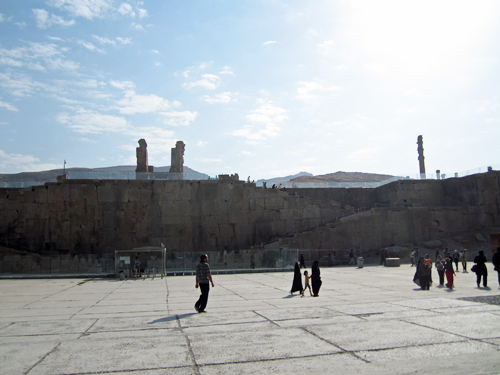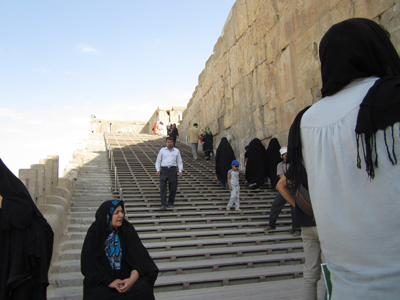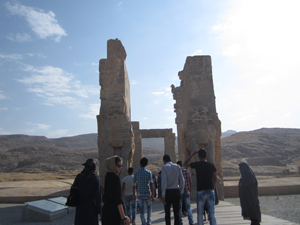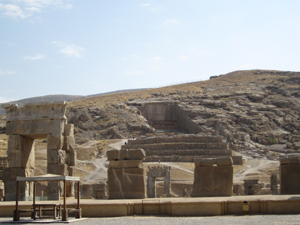 Wooden board put on ruins. Some route are without wooden board. A kind family pushed me on sandy road.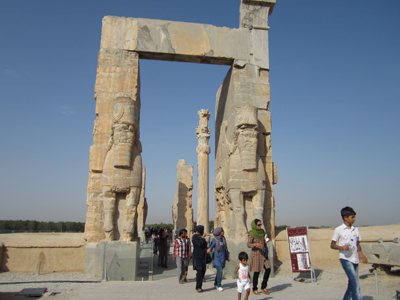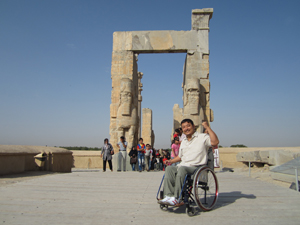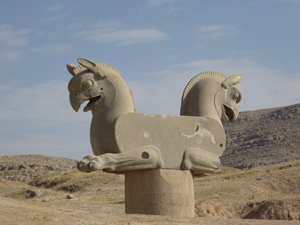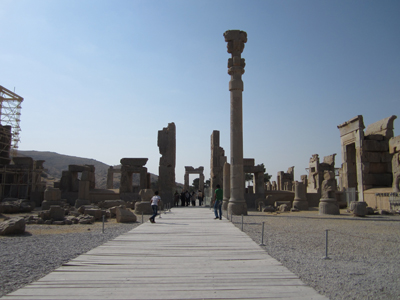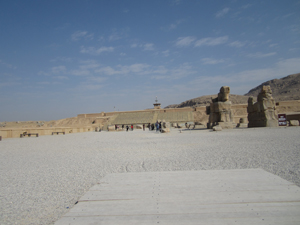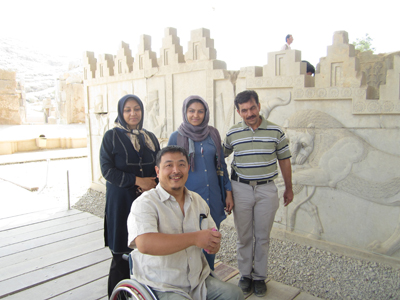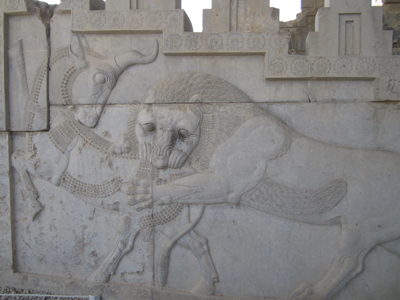 I was so happy to go around Persepolis ruins. I love wooden boards !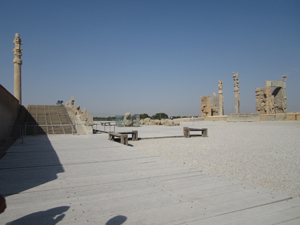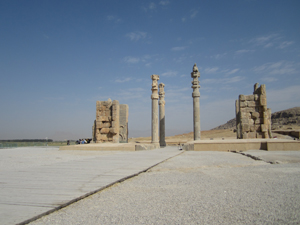 Local people like to travel with a tent. It is free to sleep. We can see many tents in park. It means Iran is safety country. Few robber and thief. Here is Persepolis parking. Problem is bollards. I could not pass it.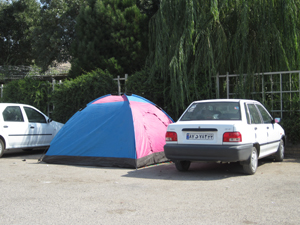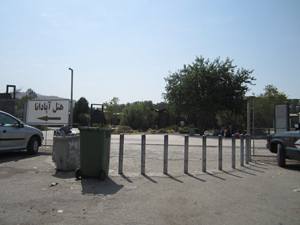 Naghsh-e Rostam. 6km away Persepolis. Same era. Great kings tombs.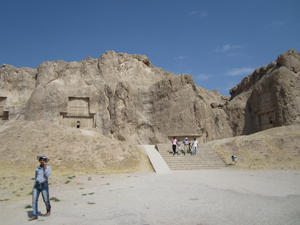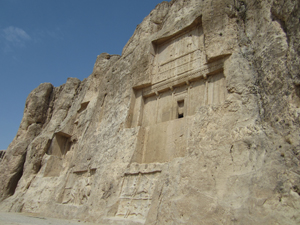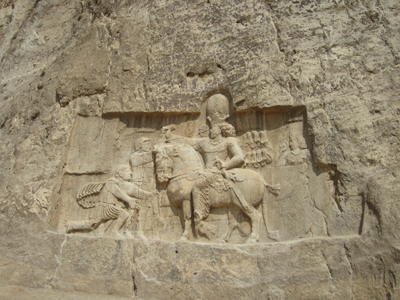 Shiraz. Holy place. Many pilgrims and local people come to pray. So beautiful. Ramp to mosque.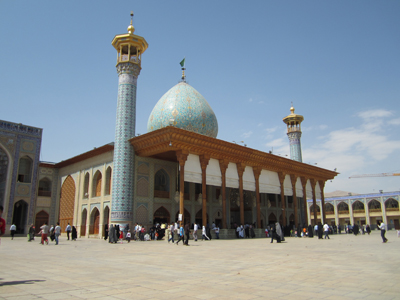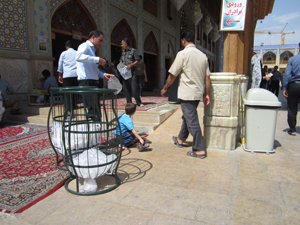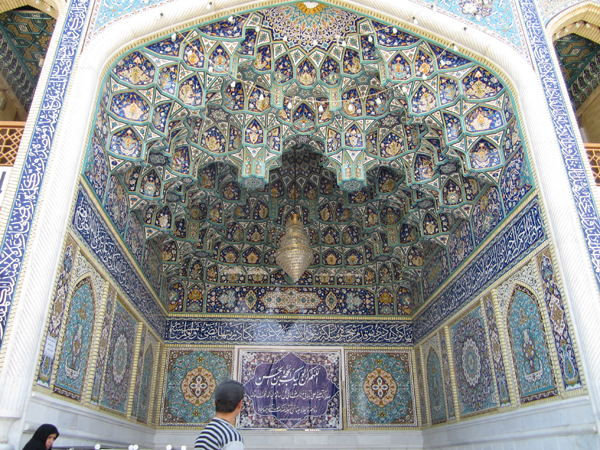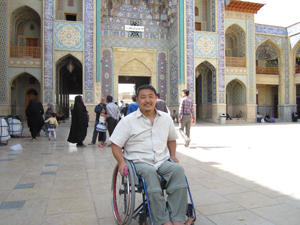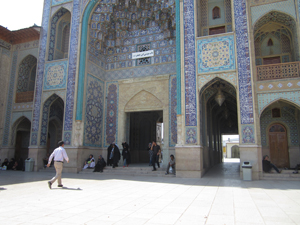 Many pilgrims and tourist come to Shiraz. Many souvenir shops around holy place. Ladies like shopping. Everywhere same.