---
Seoul accessible tourism monitor 4 days tour / 2017
Seoul city tourism board invited 4 country (Japan, Taiwan, Thailand, USA) delegates as a monitor of their accessible tour.
I joined one of them.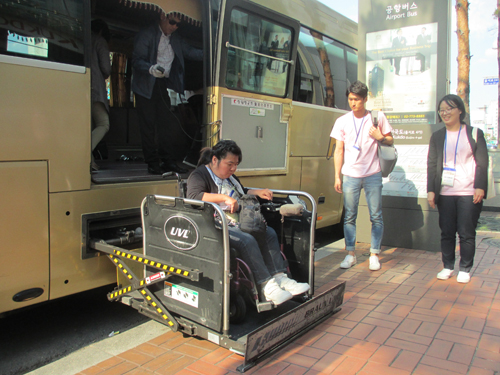 1st day lunch. For me, food is important for tourism. I like Korean food very much.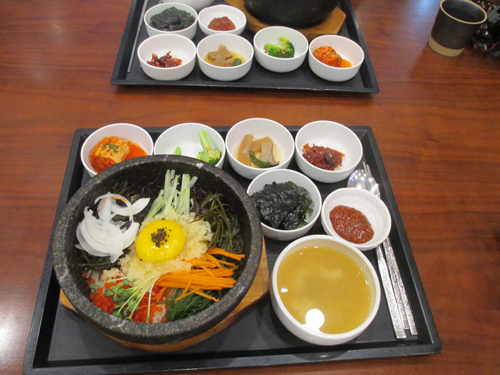 Japanese team hotel. Normally 1-2 accessible room in a hotel.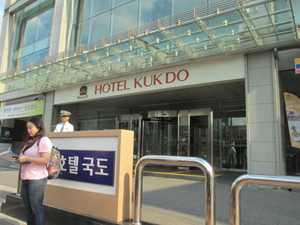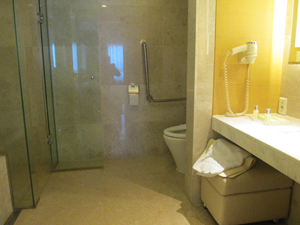 Dongdaemun Desingn Plaza on 1st day night. Wonderful architecture by Zaha Hadid.
Always new facilities are wheelchair accessible.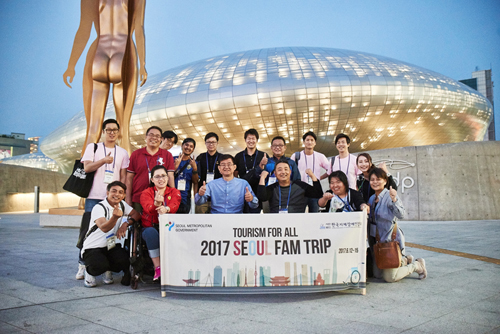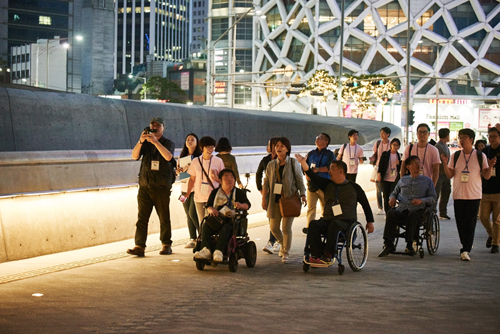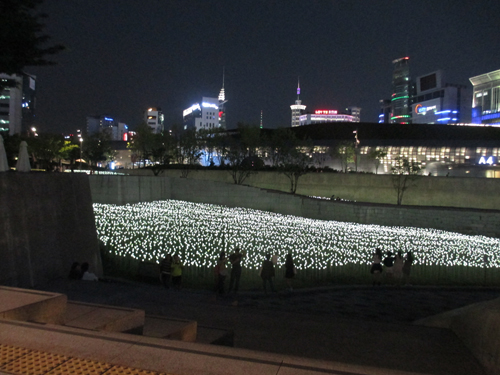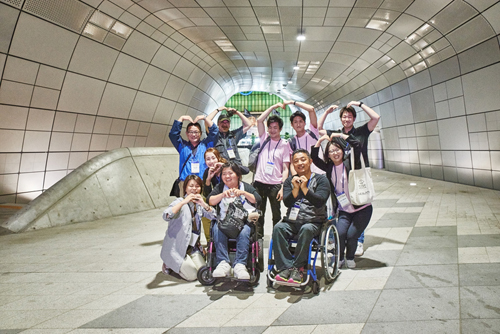 2nd day morning, we went Han river cruise.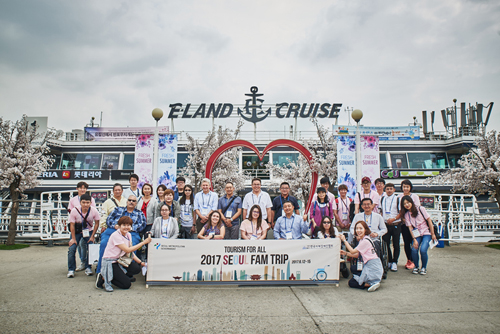 2nd day afternoon, we visited Lotte World Mall. New aquarium was so nice.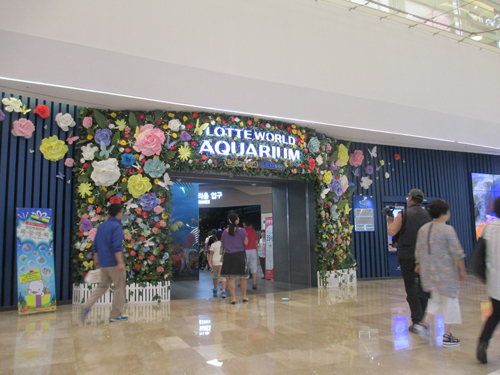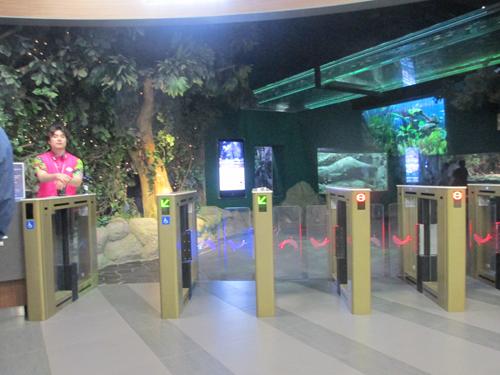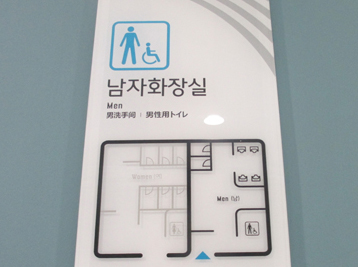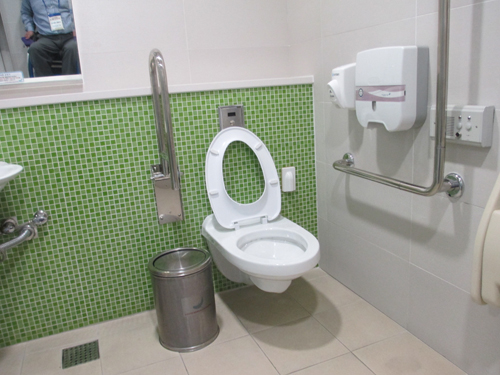 Dinner party at a deluxe hotel. I did the short speach.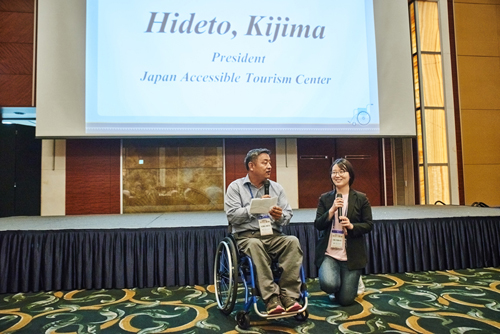 3rd day morning, we visited Gyeongbok-gung palace. It is partially wheelchair accessible. Not perfect, but possible.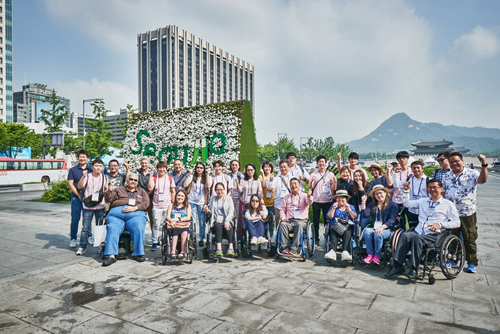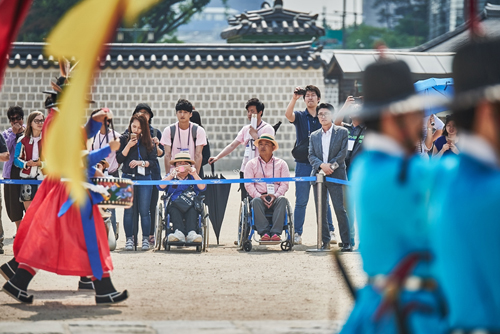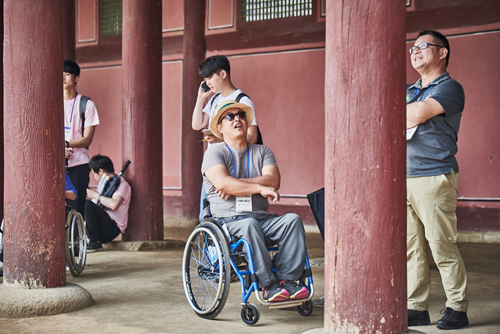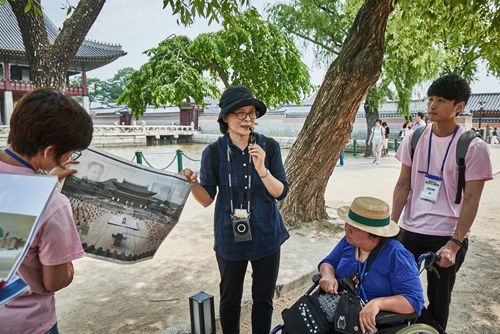 President palace is located near north exit of Gyeongbok-gung palace.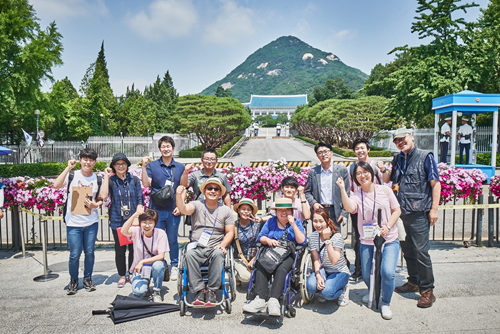 3rd day lunch, Samgyetang chicken ginseng soup.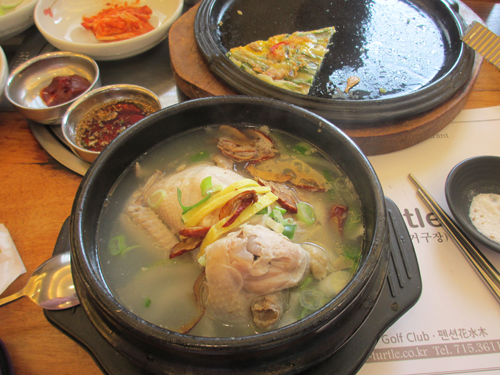 Korean accessible tourism meeting on 3rd day afternoon.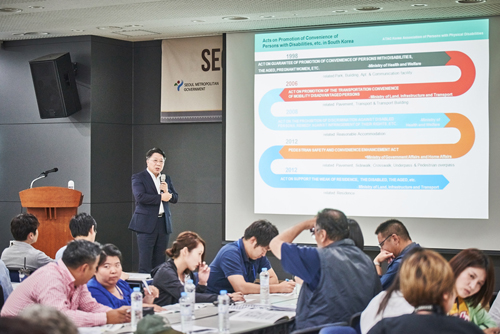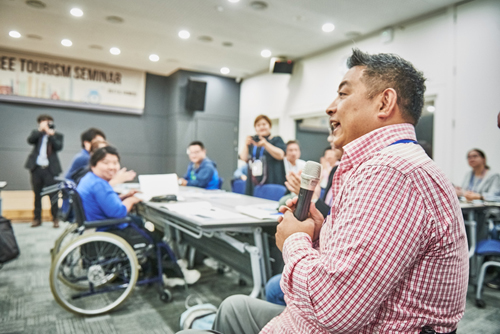 Walking on Seoullo 7017 park avenue near Seoul station on 3rd day evening.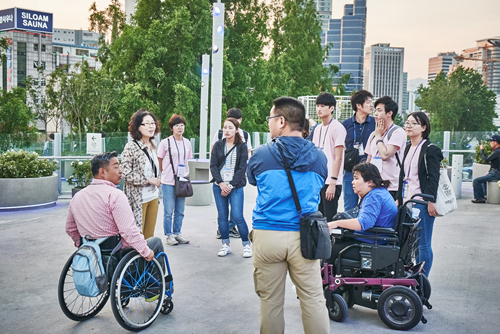 ---
4 days conference in Ulsan / 2015
I used a wheelchair friendly Korean taxi in Ulsan city. Nice design. It is useful for passengers with big luggage. The driver was a lady. It is also nice for diversity society.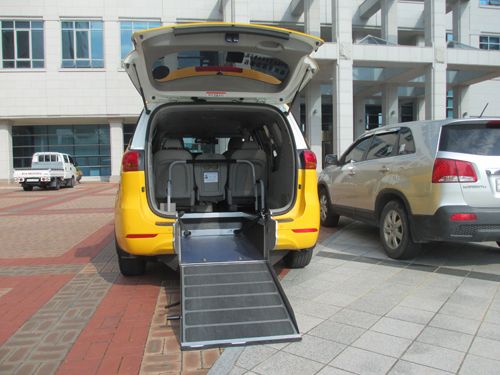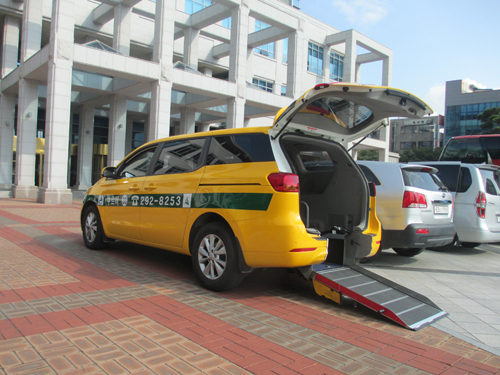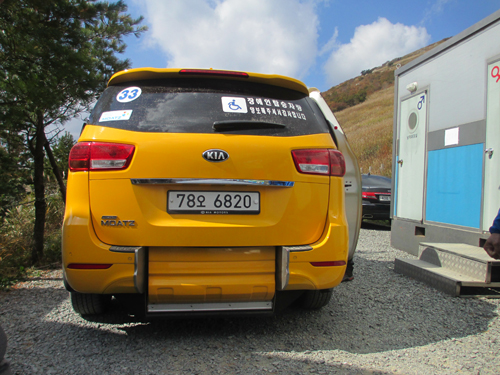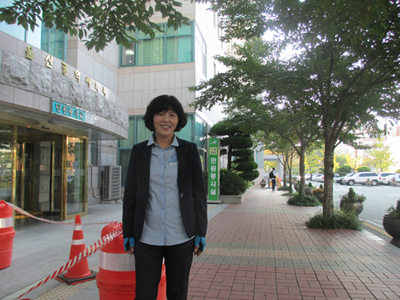 United Nation World Tourism Organization, 2nd Euro-Asian Mountain Resort Conference, October in 2015.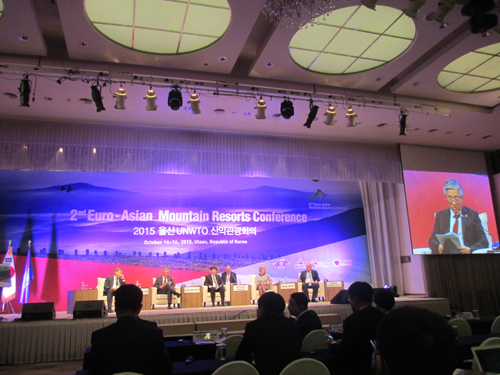 Korean traditional tea ceremony during the break time.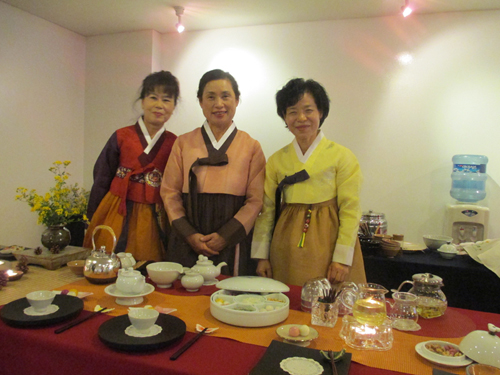 One of lunch menu. Rice bowl with vegetables and row meat. I was so surprised Miso soup with chili pepper. In Japan I have never seen chili pepper in Miso soup. Yes, Korean likes spicy food.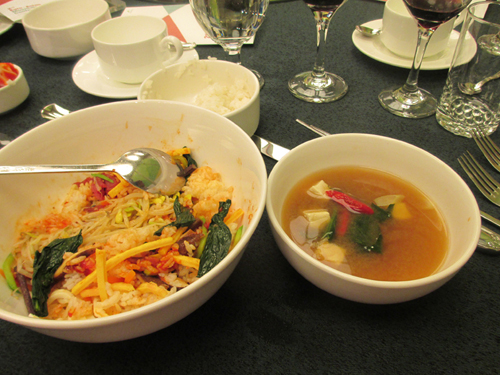 Many nice speech in conference. This slide shows Japanese ski resorts. Many one-day trip ski. Our ski resorts are located near the city. On the other hand many over night stay skiers in Europe and North America.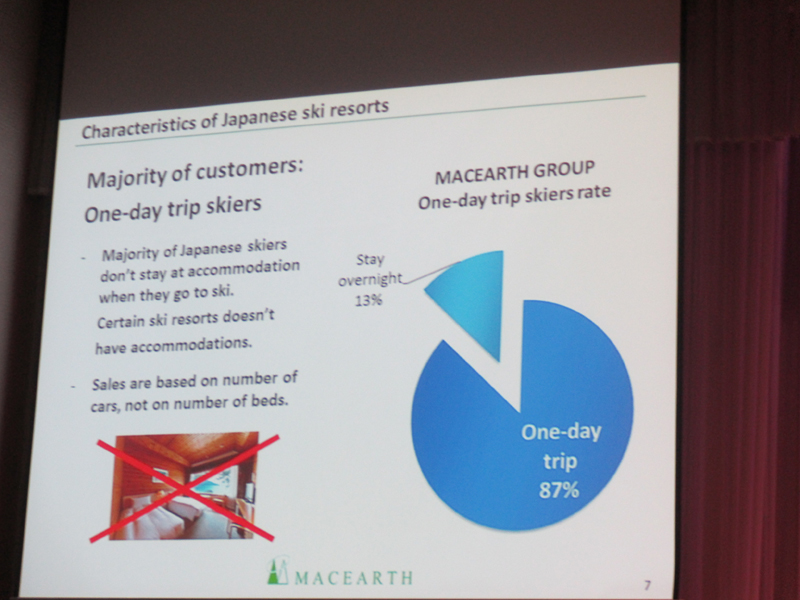 Another nice slide shows world ski market. Market is spread in China.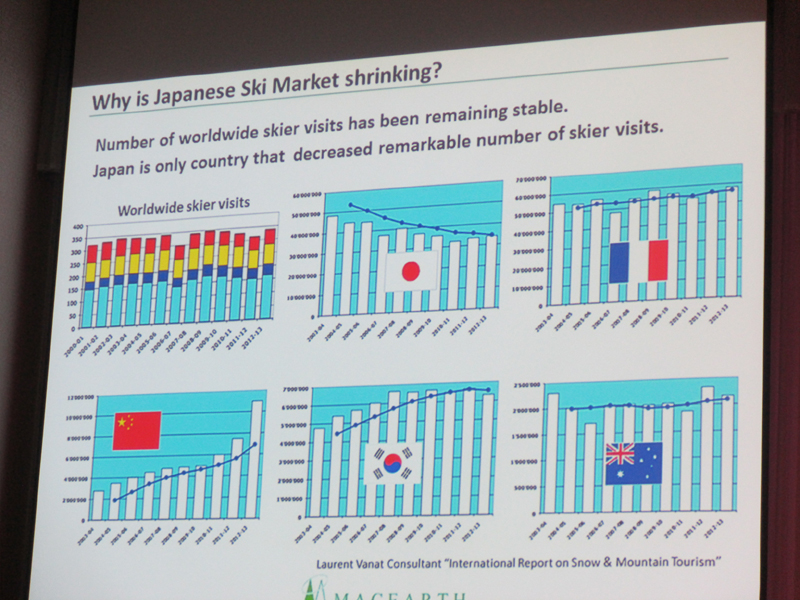 Welcome dinner outside. Dram performance and singing.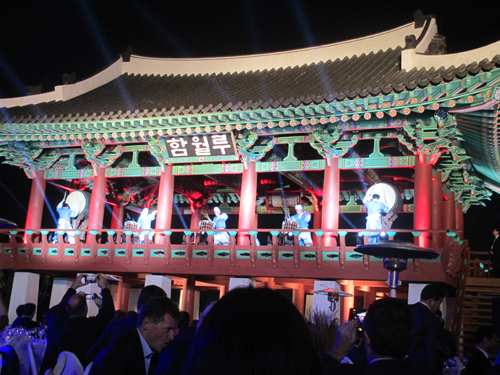 My speech on session 4. Accessible and inclusive tourism in Mountain Resorts.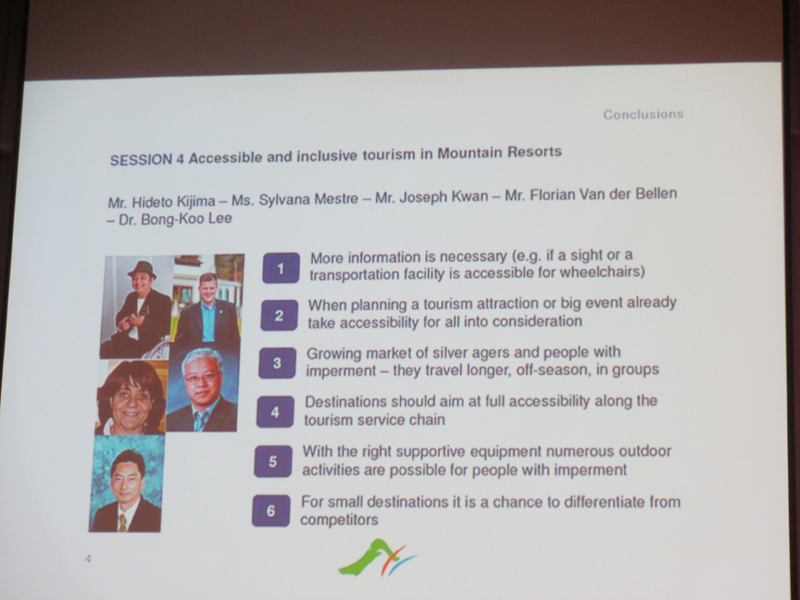 Normally Korean wheelchair toilets have an electric power door. I am afraid of broken and power down.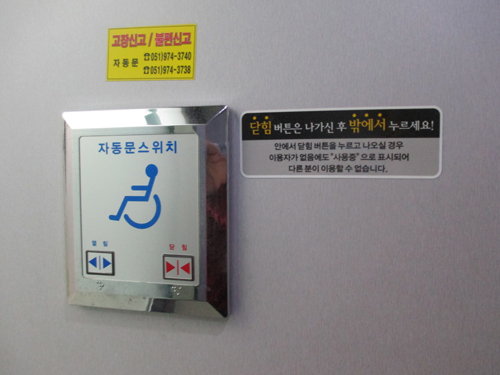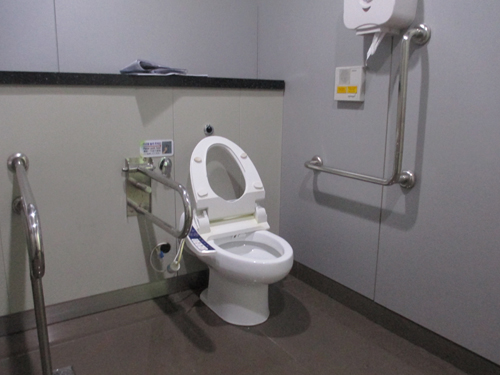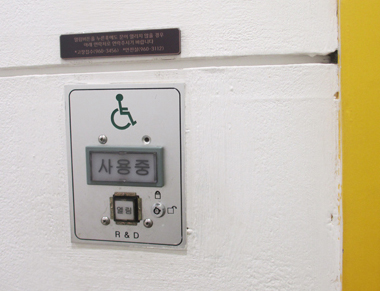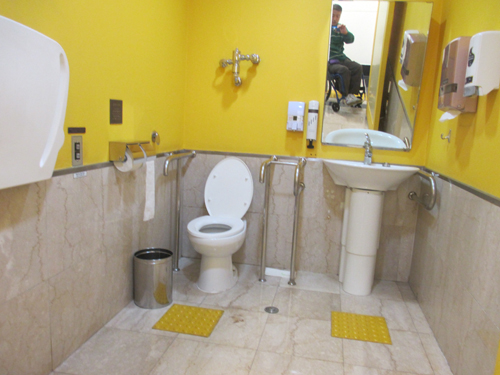 Disabled parking space and pregnant ladies parking space in Ulsan government municipal office. Unique challenge.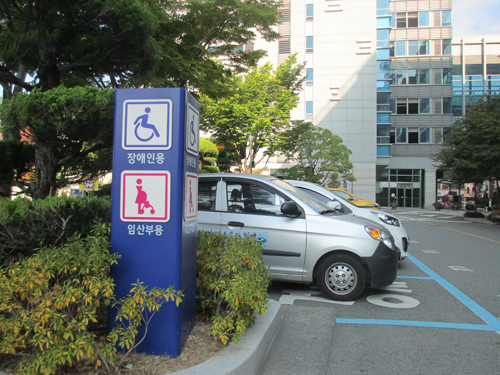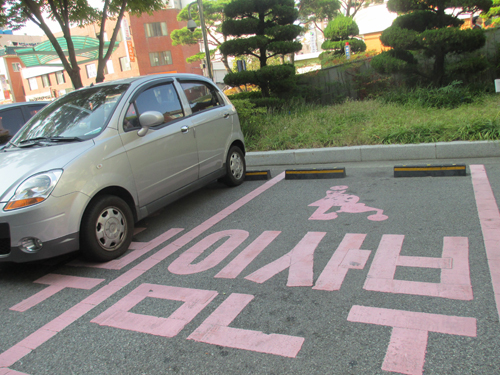 Yeongnam Alps Trekking Tour on final day. We went to the view spot by VIP car... Everybody enjoy trekking. I just enjoy scenery and feel nature. Ulsan city try to promote mountain tourism.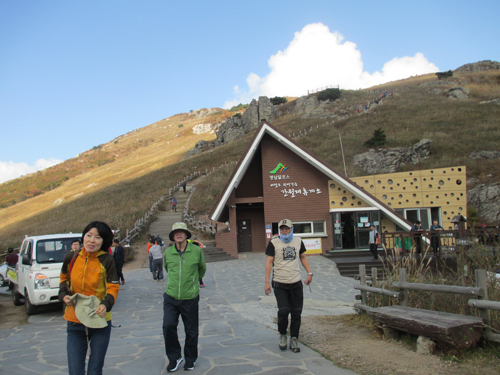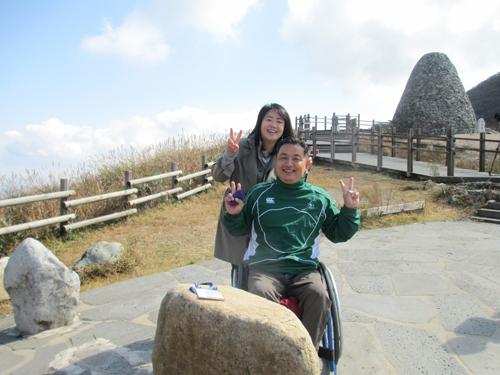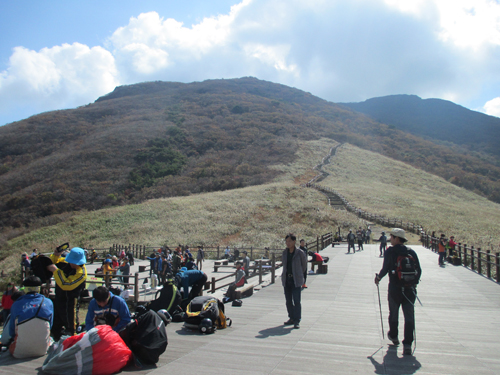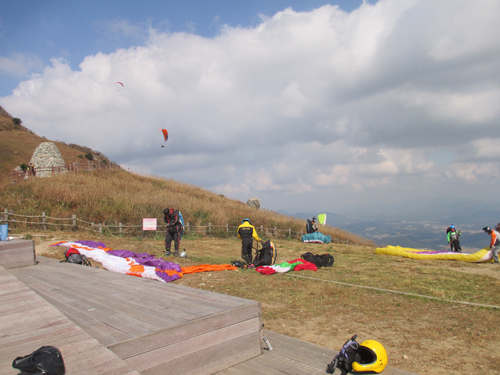 ---
4 days business trip in Seoul / 2010
16 years later, finally I visited Korea again because I watched soccer match of Asia Champion's League. Also I joined Korea Accessible tourism forum as a speaker. My wheelchair friends told me that Korea accessibility and people are not bad. Their society was also changing. New access low for person with disability was made in 2005. Today good road, many ramp, wheelchair toilet and elevator at train station in town.
Wheelchair toilet of Incheon airport is the same as Japanese one. They studied some accessible equipment from Japan.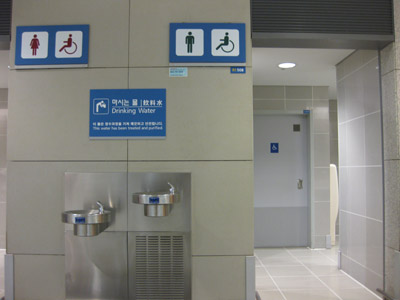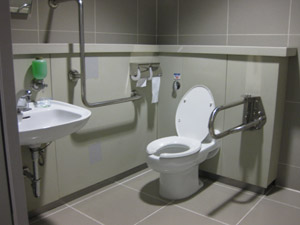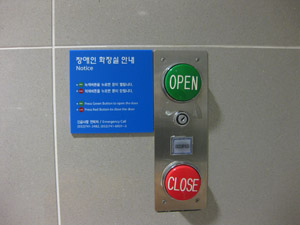 Good transportation to / from airport. Train and Metro are connected. Non step, wide gate, and elevator. December 2010, airport train will reach Seoul station. It will be really helpful for wheelchair travelers.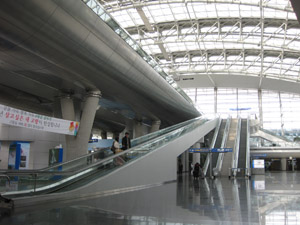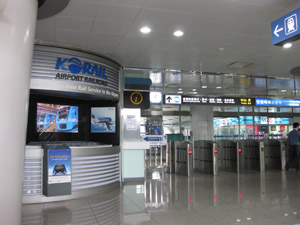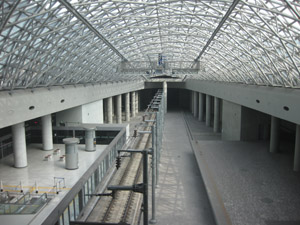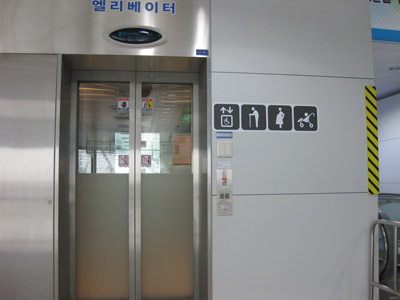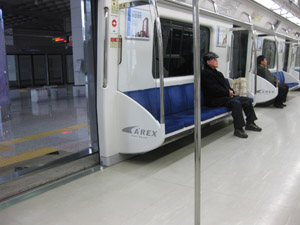 Seoul city says that all the Seoul Metro station are accessible, but some station only stair wheelchair lift. Elevator is easy. Stair wheelchair lift are often impossible to use and wait for a long long time. New line and new station is perfect accessibility.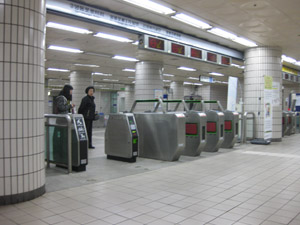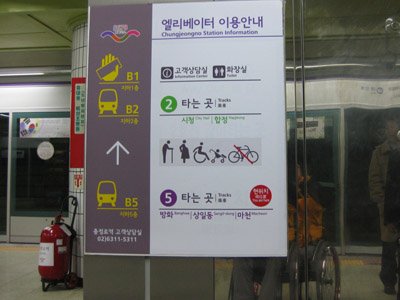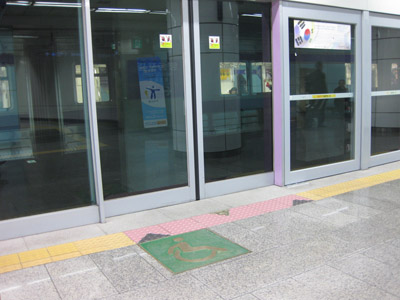 Nice pictogram of Seoul Metro. Station map shows wheelchair route. Elevator sign is also helpful where there is.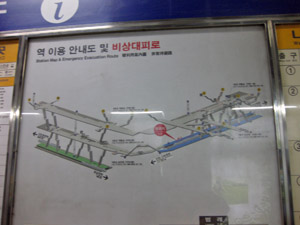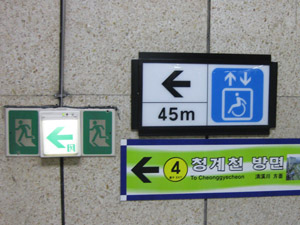 Trains are now accessible. Special ticket counter. Travel center gave me an attendant. New Seoul station is full accessible. Every platform with elevator.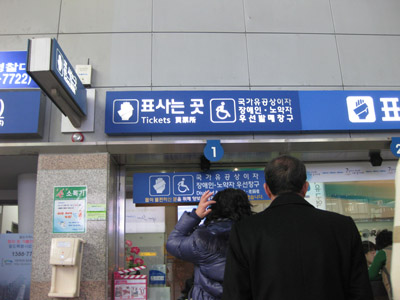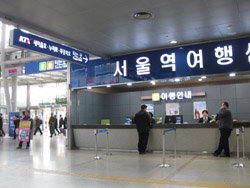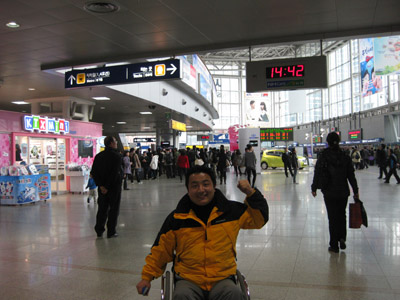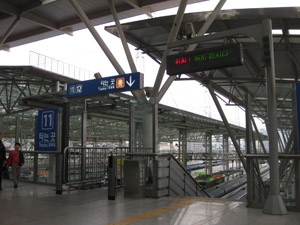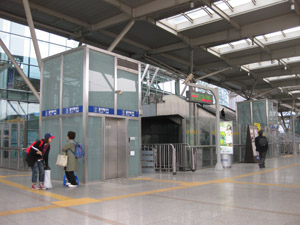 I was told by train worker that Super express train " Saemaeul " are not kind for wheelchair. Express train " Mugunghwa " are better. It has a coach with a wide exit and ramp.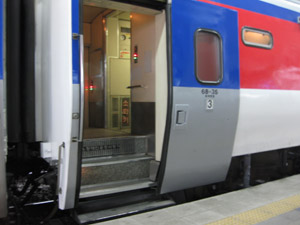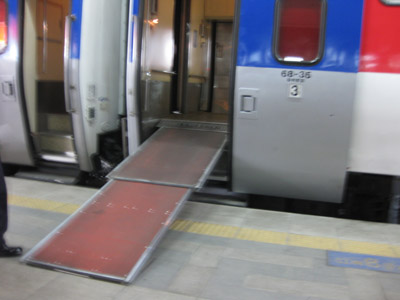 Two electric wheelchair and two manual wheelchair are possible to sit inside. Big space. Also one wheelchair toilet available.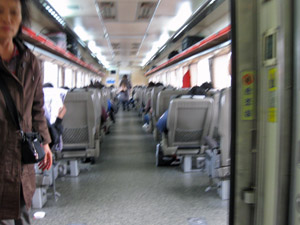 Some non step bus in Seoul. If you have a Korean friend, it will be easier to use them.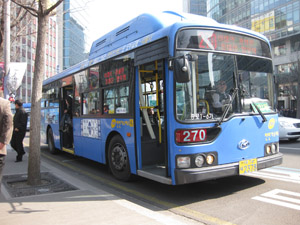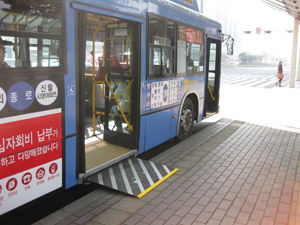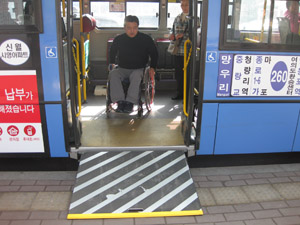 Bad road still exist. Some good road exist. Non step and curb cut.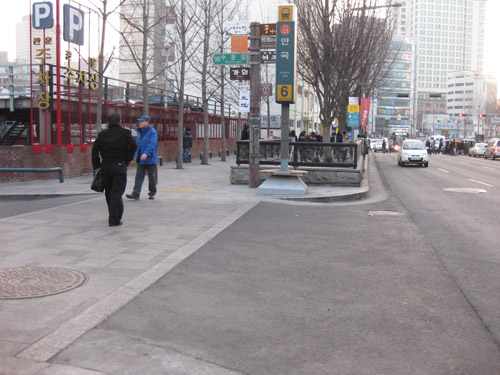 Wheelchair users are welcome today in tourist sport. Some ramp and wheelchair accessible toilet.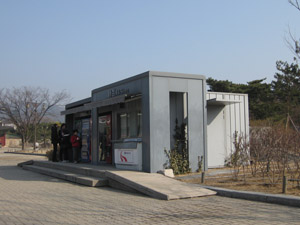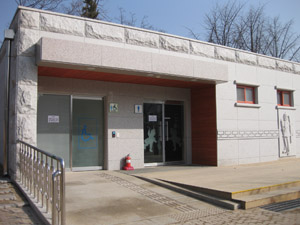 Many wheelchair seta at Suwon world cup stadium. But not good sight line form the seats. Wheelchair toilet door was broken and out of order inside.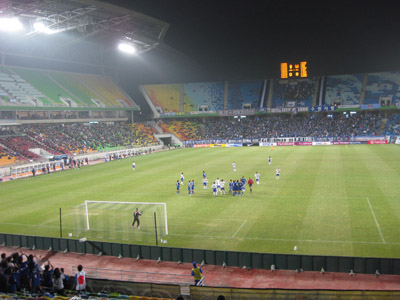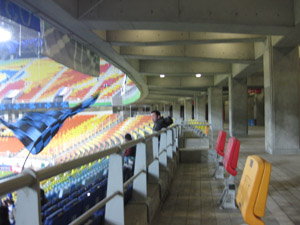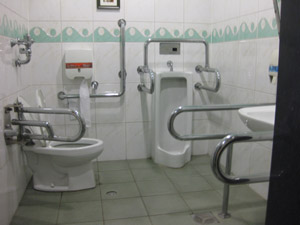 Shopping and food are Korean tourism, I think. However, many restaurant and shop with step at their entrance because shoe less and step at entrance are their tradition. Inside Shopping center and building are wheelchair accessible, but not interesting.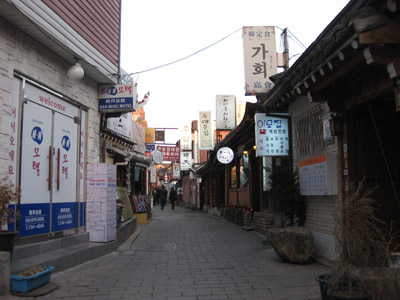 Nice chili Korean food. Many free side dish. Pork BBQ with vegetable.
" Sundae " is Korean sausage with pork blood, sticky rice, vegetable and starch. Really hand made taste.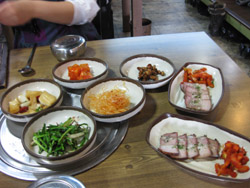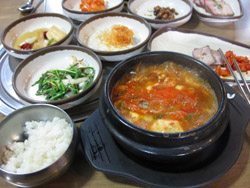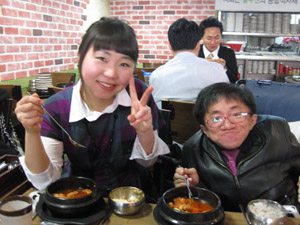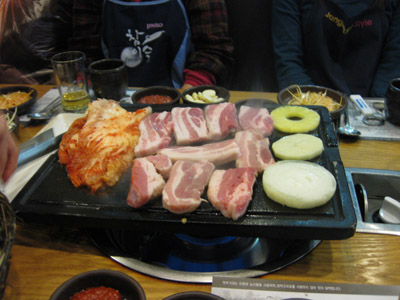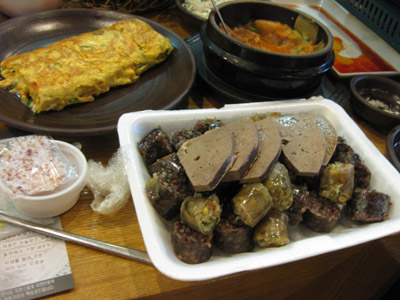 I used Korean Air. Their service was natural. Easy to use. Two priority counter in Seoul, Inchon.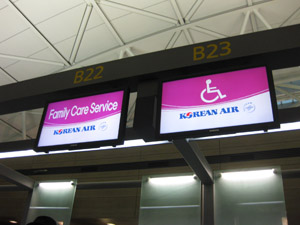 ---
4 days with 2 friends / 1994
Korea is my second foreign country after USA to travel abroad.
The worst travel. Some people ignored my calling for help. Some taxi drivers refuse me to get in.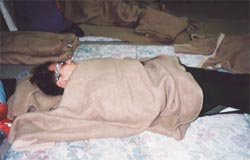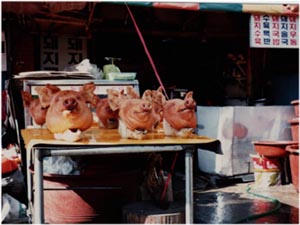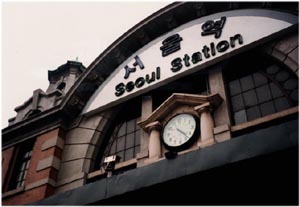 When I got on and off a train, many women push me and my friends down to the floor. In Seoul, one man that I called for help said " Do not go out, You be in house." I hope the situation getting better now.